So, are Gemini and Pisces compatible?
When combining air and water signs, we have a couple with not many things in common; fortunately, they still can work things out and make a good pair.
Pisces is infamous for their imaginative mind. Of all zodiac signs, they are the true artists who like to express their inner thoughts and feelings through words. In a love relationship, they are the hopeless romantic and daydreamer.
Meanwhile, Gemini is the soul of all parties. Outgoing and friendly, they are the social butterfly who constantly needs mental stimulation. They lose their interest quickly if there's nothing entertaining them.
Will this match work well?
Keep reading to find out!
Gemini and Pisces Compatibility in Love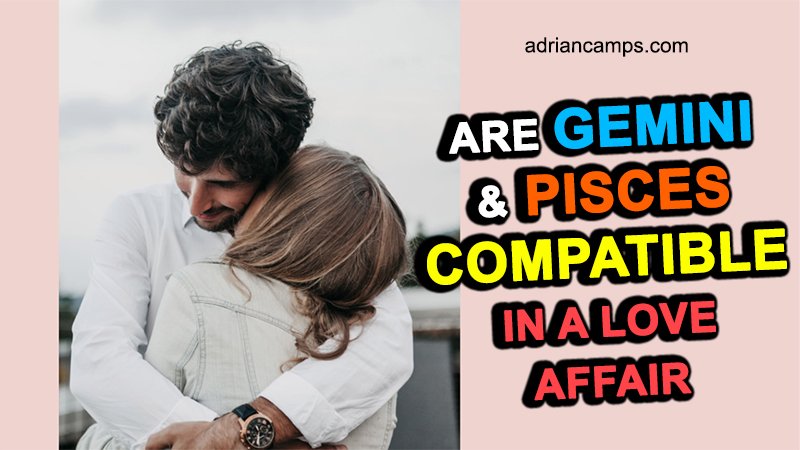 How is the love and intimacy between these two signs?
If Gemini and Pisces have entered the marriage phase, the love spark from the beginning is still there. Everything goes smoothly; however, gradually Pisces will feel the lack of intimacy from Gemini because they get bored quickly. In order to make things normal again, both have to put more effort into the relationship.
As I told you earlier, people who were born under Gemini need constant mental stimulation to keep them interested.
What I like about this pair is that both of them value love, though their perspectives about that may be quite different from one another. Their value for love is undeniable, but Gemini expects a realistic love with more real and meaningful moments, while Pisces wants a love resembling a fairy tale.
Unlike the practical Gemini, Pisces is very imaginative and highly romantic. For the love connection of these two grows stronger, they have to balance everything involved in their relationship.
Do they have difficulties in expressing emotions?
In love relationships, Geminis are not hesitant in opening up their feelings. Once trusting the partner, they can't wait to let them be aware of their emotions, especially when getting hurt. When it comes to expressing deeper feelings to their loved one, Geminis don't have enough patience.
On the contrary, it's a challenge for Pisces to reveal it. They tend to become nervous and get paranoid when thinking about letting others know about their stories deepest inside.
When Gemini and Pisces Fall in Love…
What is love like for Gemini and Pisces?
There's a spark of love that will grow bigger when these two are together. Right from the first meeting, they already want to spend the rest of their lives with one another. They have a connection potentially lasting for a long term.
It doesn't mean they won't get argue, but that never costs them a breakup. Due to the disagreement because of differences, they will have some moments of taking a break but it won't be that serious. These two zodiac signs can't stay apart from each other for too long.
Gemini loves to be loved, and they will definitely be on cloud nine with Pisces' tender loving care. Pisces is the caretaker in the zodiac and can always make their Gemini partner feel pampered and served. If you're a Gemini, then it's your luck to be in a relationship with a Pisces as they treat you like the king (or queen).
Pisces individuals in love will sort out all the differences, learn about the other to understand them better, and come up with surprises to please them.
Bonding together is easy. For this couple to achieve the most of the relationship, both have to make conversations on the higher level, emotionally and intellectually. Gemini and Pisces should create a goal list in which you two write down things you want to work together. Falling in love is not complicated at all if that person is your true soulmate from the start.
I can tell you confidently that Pisces is the soulmate of Gemini.
What are Gemini and Pisces Like in Love?
These two are not really patient in love.
If they ask their lover something, they expect fast responses. Once they chase after the person they like, they need to know their responses immediately. Both are curious about the future ahead and how it affects their lives.
Sharing a couple of things in common, the bonding connection of Gemini and Pisces will become more natural as time passes. You two should communicate with each other frequently per day to have a happy relationship.
They are flexible with their desires and tend to wait for their future partner to make the first move. With the Gemini-Pisces pairing, Gemini is likely to be the one chasing after the Fish. These two signs give their all and also support each other hard in whatever they do. Once two parties put down the guards, they allow one another to enter their personal space.
There's always something good coming out from the connection of Gemini and Pisces.
You two have similar hobbies, except that Gemini loves going outside whereas Pisces prefers to stay at home more.
They make a good time and are good at balance stuff when living together. If one has some problems in life, they won't mind talking to their partner. Both want to know whether their significant others are around them during their tough days. Take part in common activities together can strengthen the bond of these two signs.
Gemini should find some days staying at home to cuddle with Pisces, while the latter needs to visit friends and family as well as to take on challenging adventures.
The Bottom Line
In short, are Gemini and Pisces compatible?
These two signs have a few differences to each other, but the relationship still can be worked out. Born at different dates, it's not surprising that they have plenty of differences. You won't find a great match than Gemini and Pisces.
Though the time and dates are not similar, this couple has the potential of coming up together perfectly.
They really make a good pair in this relationship.
It's a must to add some extra efforts to strengthen the love affair of you and your Gemini (or Pisces) partner.