Have you ever seen Gemini and Leo at the same place together?
From the first glance, you might think this is an odd couple. How could an unpredictable Gemini get along well with a straightforward Leo? But, to your surprise, these two are naturally attracted to each other in terms of love relationship.
The combination of air and fire is one of the reasons making this pairing strong. They understand the need of each other and radiate positive energies around them. In general, Gemini compatibility with Leo can really work out!
Overview of a Gemini and Leo Relationship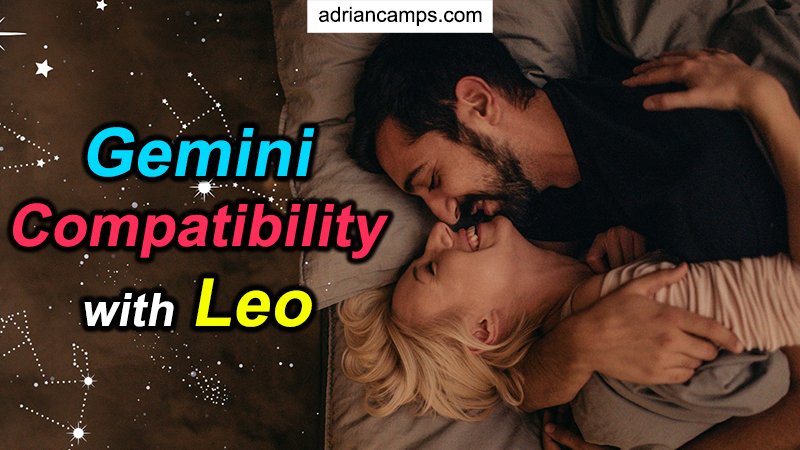 Both are as romantically compatible as any other couples in the zodiac. While the lion is bright and bold, the twins are witty and intellectual. Leo's enthusiastic energy can blend well with Gemini's intellectual vibe.
We all know that Gemini gets excited with all kind of new experiences, and Leo often comes up with thrilling, interesting adventures. They really enjoy the life to the fullest together. Though the social twins have the reputation of jumping from place to place, the dynamic, adventurous lion can make them stick around for a long term.
See also: Do Geminis and Capricorns get along?
What happens when you mix a mutable sign with a fixed sign? From the astrological characteristics, we can easily see that Gemini is mutable and Leo is fixed. The twins are flexible, adaptable, and willing to go with the flow; on the other hand, the lion is more patient, grounded, and steady.
Once getting involved romantically, we will have a push and pull relationship.
1. Emotional compatibility
If you're in a Gemini – Leo relationship, you will realize that Gemini pays much attention to the world around them; meanwhile, Leo focuses more on their own lives. Despite opposite attractions, there are still some different focuses and priorities making this a tricky pair for both signs.
Fortunately, they can do well with regular conversations and check-ins. This duo enjoys having conversations. It's because Gemini is an intellectual sign, and they can't wait to share things they know with their partner. At the same time, Leo has a great impression as well as admiration for the knowledge of their significant other. They are found listening to Gemini's stories attentively!
One is honest and one is direct, so neither of them has problem in communicating. However, when having a talk with each other, they must make sure that they have an equal opportunity to express their thoughts and feelings.
Leo and Gemini complement each other emotionally. The lion shows up in this relationship with warmth and support which leave the twins appreciating. In the meantime, Gemini can captivate the heart of someone they love with their silly, captivating charm.
Most importantly, these two know how to treat their partner's emotions with respect and care, and this plays a big role in strengthening their relationship.
Gemini and Leo really want the best for each other.
Though Gemini is a free-spirited individual, Leo understands that they do need their privacy and freedom. So, the lion completely respects that and gives the twins space where they can reload their thoughts and stay true to themselves. None of them tries to tie each other down. On the other hand, Gemini always has great admiration for Leo's sense of passion. While the lion gets carried away in their endeavors, the twins will stay in the back as a supporter.
2. Romantic compatibility
Once hitting the stride, the romantic compatibility of these two signs will be beyond the expectation. Sometimes, their relationship can be a little bit off the balance due to Gemini's laid-back, changeable attitude and Leo's fiery eagerness. Despite of that, you should never underestimate the chemistry of this air-fire duo!
Complementing each other well like their elements, they feel comfortable around one another, like one another, understand one another, become each other's motivations, and support each other.
3. Sex compatibility
Undoubtedly, Gemini and Leo give off a lot of chemistry in the bedroom. When it comes to love making, the lion is steady, grounded, and passionate in their approach while the twins simply enjoy new experiments.
Their view of sex and intimacy can be a bit different, but the most important thing is that both love trying out new things in bed.
Read more: Is Gemini really an air sign?
Tips to Make Gemini and Leo More Compatible
Both should learn to respect each other's communication styles at first. Gemini seems to be more rational when stating their perspective; meanwhile, Leo expresses their thoughts in an emotional, passionate way. To prevent any possible misunderstanding, Gemini needs to also look at the emotional side of a situation, and Leo must add a bit of practicality to their standpoint.
Another thing that can help this relationship better is compromise!
These two need to compromise each time making decisions.
Next is to plan activities that you both like. If Gemini prefers brainy outings, Leo is more interested in standard date-night activities. For a truly harmonious date, they have to compromise and meet in the common ground before deciding the activity.
If you're a Leo and your partner is a Gemini, then you must be patient to them.
Extremely independent, they value freedom and don't want to be tied down. Even though Leo respects and gives Gemini enough space as well as privacy, the twins' flightiness and fear of commitment still make the lion anxious and frustrated. Rushing them to commit is never a good solution, actually. That's why patience is the key!
Give your Gemini time, space, and support they need. When they feel comfortable enough, they will be willing to settle down.
On the other hand, if you're a Gemini and your loved one is a Leo, then make sure to shower them with affections and loving gestures. The lion enjoys skinship, such as hugs, kisses, pats on the back, cuddles, etc. So, when you feel at the right mood and time, don't mind making skin-to-skin contact with your Leo partner.
Summary
In general, Gemini compatibility with Leo is great!
This is one of the strongest pairings in the zodiac. Both get along well with each other in all kinds of relationships – as friends, as lovers, as colleagues, and so on. Nothing can separate this duo if they show great understanding to one another and accept their differences.