The Gemini season will soon come, so this article is dedicated to all Geminis out there.
What are Geminis known for?
We all know the twins are social butterflies. Individuals born under this zodiac sign are highly sociable and often spend a lot of time with their loved ones (family and friends). They get excited about learning new things and meeting new people. Intellectual and full of energy, Geminis surprise their colleagues with inventive ideas and enthusiasm in the workplace.
Learn more about Geminis in the following…
1. What Personality Does a Gemini?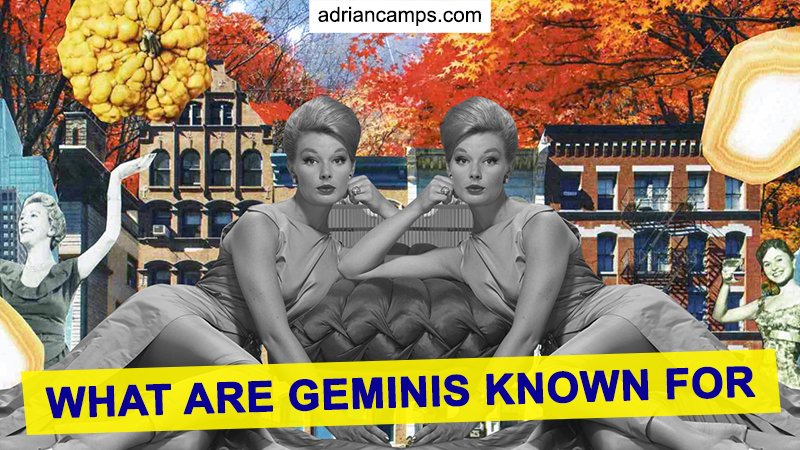 What are Geminis known for?
Gemini natives are playful and intellectually curious. Ruled by Mercury, they constantly need mental stimulation to inspire their own selves. So, don't be surprised if seeing them jumping here and there, having various hobbies, changing careers, or switching friend groups. As I said from the beginning, they are the social butterflies of the zodiac.
These quick-witted individuals can talk to anyone about anything. If you have a Gemini friend, you will never find any dull moment around them. They can buzz from one place to another.
See also: Who is Gemini opposite sign?
Best traits:
A Gemini views the world with childlike curiosity. They are the thinkers and always yearn for knowledge as well as new experiences. They will try to find interesting things in what they are doing as a way to mentally stimulate themselves. If you have no ideas for the weekend, Gemini will come up with bunches of cool ideas to convince you, such as visiting the modern art museum, going rock climbing, or taking part in a pottery course.
Consider yourself lucky if having a Gemini by your side!
Worst traits:
Everything has pros and cons, so do Geminis.
They crave to experience all the things offered in life, but, at the same time, they find themselves have a hard time with stability and commitment. Their unintentional act makes them become unreliable; for example, showing up late to lunch, leaving your texts unread, etc. Many claim that they slowly lose trust due to Gemini's mental disorganization.
The twins' flakiness or apathy prevents their friends and family from counting on them.
2. What is Gemini's Spirit Animal?
The answer is deer!
Why is it a deer? Actually it isn't a surprise when finding out deer is the spirit animal of a Gemini. Some may not know but a deer possesses an insane amount of energy; that explains why Gemini natives are fun and intelligent. No matter what happens, they aren't afraid of putting themselves out there and fighting till they get what they want.
Why are Geminis Attractive?
The first thing making Geminis attractive in others' eyes is their smartness. Next, they are such good friends willingly protecting those who may not see what's going on. Gemini is the type of person that will try their best to help people they know avoid bad situations.
The more you know them, the more you realize that they're so attractive.
Learn more about Gemini attractiveness with a click!
3. Is Gemini the BEST Zodiac Sign?
The answer is yes!
Gemini is the best sign in the zodiac because no one can beat their sharpness, sense of humor, and charms. They are born with the ability to enthrall and hypnotize people around and they just love it.
4. How is a Gemini…?
As a friend:
What are Geminis known for? Lively and open-minded, your Gemini buddy is always ready for any adventure, and they would love it more if it's the last-minute idea.
Some asked me that if Geminis have ever felt shy. Not really! Knowing as the spotlight of all parties, they can shine naturally without any effort. If you want to approach them from the first meeting, come up with different ideas. For example, discuss about the topics that both of you are interested in.
Astrologers online can see your perspective with such clarity. Among 12 zodiac signs, Gemini is the least judgmental in the zodiac. It's much comfortable when talking with your Gemini friend. Treat them well and they will give you the same amount of love and respect in return.
But, remember that don't just tell them anything!
As a love partner:
I believe you all think that Geminis are flirty and not ready for commitment. In fact, despite all the things you've heard before, this fickle sign is capable of long-term relationships.
Who can resist Gemini, especially when they come with their full wit and magnetism!
They may have many affairs and at the end go with the one who fascinates her the most. If you think these people are not loyal at all, then you're wrong. The truth is: loyalty will be brought on the table if Gemini meets their intellectual match.
When pairing up with this airy sign romantically, you can expect lightness and spontaneity. The twins are experts in infusing novelty into the longest of relationships. In order to stay with them for a long time, make sure not to control her: A happy Gemini must be free to explore her own hobbies without being tied down.
5. Who are Compatible with Geminis?
In general, Aquarius and Libra (fellow air signs) are the most compatible signs for Geminis. Both share many personalities in common and have an innate understanding of the twins' mental nature. The match with Libra is the perfect one in both romantic relationship and friendship.
Aries, Leo, and Sagittarius (fire signs) have the same level of energy with Gemini, so they can match well.
In Conclusion
So, what are Geminis known for? Gemini natives has long been labeled as two-faced individuals. But, their understanding of two stances shouldn't be seen or claimed as superficiality.
They tend to absorb the ideas quickly and consume others' emotions. This is one of truly good friends in the zodiac because they can truly put themselves in the shoes of others, no matter whoever they are talking with.
Type your comments below if having any question!