Your relationship with Gemini man seems not to work out?
A guy who's not relationship material usually gives you subtle signs for that, and all you need is to know what to look for. However, most ignore it when falling in love and ending up with heartbreak.
The male born under Gemini zodiac sign is clever, enthusiastic, and charming. His mind never stops thinking and he has multiple points of views on a certain aspect, so you cannot figure out what his next move is.
Then how to tell if a Gemini man is playing you?
Read these signs in this article and get your answer!
Top 10 Signs Gemini Male is NOT Serious in Love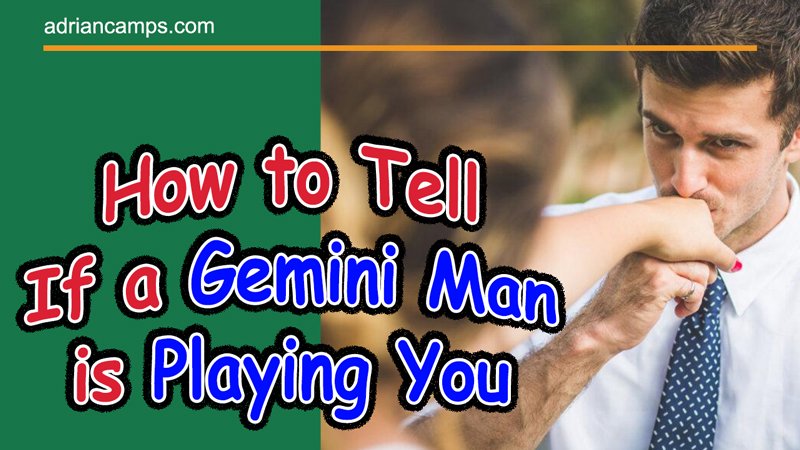 Well, Gemini man loves playing mind games as excitement and fun are what he expects in a romantic relationship. Here is a full list of possible signs revealing the truth about whether or not he wants to avoid the commitment with you:
1. He doesn't call you as promised
This is the guy who never lets himself experience any free time – he always has things to do and gets busy frequently. It's understandable if he works late on some important projects due to the deadline, and you can give him his own space once in a while.
However, if this kind of situation happens more than twice, it's definitely a sign indicating you're not considered as his priority.
Things will be different if he wants a real relationship. The Gemini male falling head over heels for you will never forget to make call because your image will be on his mind most of the time.
Has Gemini man heartbroken after a breakup? Learn more!
2. He is often late and does not inform
You will find that Gemini man is often late when hanging out with you.
Actually it's okay to be late because of some reasons beyond our control, such as car issues, traffic jam, or sudden work overtime. But at least he can give you a quick call or text message to put your mind at ease. It's good if this guy respects your valuable time as your life doesn't revolve around him only.
The problem here is that he doesn't inform you about his chronic lateness – this inexcusable sign tells you that he has no concern regarding you for sure.
3. He knows more about you
Gemini man in love is talkative and loves having conversations with his love interest. Nevertheless, if you find him stay quiet during the talk, it's probably because he doesn't want to open up as well as get close to you.
Usually it's you carrying on the conversation the whole time, so undoubtedly he knows way more about you.
Girls don't require her man to be a big talker, but at least he must provide some details about his workplaces, his university, or his hometown. Try to ask him these specifics and see how he's going to answer. If his response is vague and ambiguous, then 100% this guy doesn't want you to enter his inner circle.
4. He doesn't show up on a date
Another sign of Gemini man is not serious is that he tends not to show up on the exact day you plan to see him.
As expected, he will not appear on the date you've planned out with him beforehand but also give no phone call or text to inform you. Not an apology, he will keep coming up with excuses to refuse going out together with you.
Don't be with him once he brings his maneuver on the surface; otherwise, you will suffer a very bumpy emotional ride, and the cost for it is your terrible heartbreak. We're living in the 4.0 era, so making a call is not something super difficult these days.
In short, this mistake is not forgivable!
5. He hides you from everyone around him
When a Gemini man is not in love with you, he simply won't tell about you with people around him. If he doesn't introduce you to his family and friends, then it's a sure sign he is not ready to start a real relationship.
It's not that you crave to hang out with his friends much; well, even some feel uncomfortable if being in his circle. Nonetheless, he should at least give them bit information about you as his girlfriend.
The way he treats you can give you a great insight on how the relationship of you two will go; for example, if he refuses on the phone about bringing you to his family gathering or a party with his close friends before asking you directly, you're likely nothing to him.
Will he ever come back after broken up? Check here!
6. He has many female friends
I do believe that a platonic friendship between the male and female is rarely – at the end of the day, some special feelings will spark from either side.
When a typical guy is in a relationship, he would spend a large amount of his time for his lover and less time for the buddies. However, you find out that your Gemini boyfriend dedicates his precious time with the lady who is his so-called friend instead of you.
Whatever his reason is, none are good as he just wants to play games!
Once knowing about this sign, you're advised to move on and find yourself an emotionally healthy man to be in love with
7. He doesn't include you in his future
Gemini man is all about living in the moment and enjoying present moments to the fullest. Yet, when it comes to a relationship, a discussion related to future plans is necessary between a couple.
If there's no talk about future plans, you will never know if the two of you can last for a long term or where your relationship will head. In case the Gemini male says nothing about his plans for the future with you, then you have no room in his mind.
This means his life is still be fine without you!
Even if you two are dating, he can't stop reminiscing about his escapade life when he was single. Much worse, he even comes up with some exotic and adventurous plans without including you in.
8. He makes you doubt yourself
This is the biggest warning signs of Gemini man is using you!
His negative attitude and behavior gradually make you feel that you're the one to blame of this relationship. If you start thinking that it's your fault for him to pull away or you should give him the freedom and space he needs, then he succeeds.
Don't easily fall into his trick!
The Gemini who loves sincerely will approach and shower you with real feelings, real consideration, and real romance. On the other hand, he just lets you wait for him quietly without any explanation.
No matter how much you change, things will not work out if he is messing with you around.
9. He makes rules about how often he can see you
As I said from the beginning, a Gemini man who is playing around will continuously give excuses in order not to hang out with you. Unbelievably, he even has rules about how many times he can see you.
If you ask him whether both of you can get together or not, he usually picks a certain day, like every Sunday as he's unavailable on other days. Chances are he saving his time for his true love interest.
This guy never seems so willing to have a date with you.
10. He dislikes spending holidays with you
No one can be more excited than a Gemini man on the holiday. However, he prefers spending it alone or with his friends, not you – the so-called partner. As women, you love spending holidays with the person you love as some private romantic moments can strengthen the connection of you and him.
It's just he doesn't share the same thought with you!
If you find your Gemini head his way to somewhere with his close friends during his holidays and you're not invited, then you already got your answer.
Final Words
Now the truth of how to tell if a Gemini man is playing you is no longer a difficult matter as you get to see all the warning signs above.
If you're experiencing any of them, maybe the partner you love doesn't love you the same way as well as doesn't expect a committed relationship. Rather than keeping your investment on this toxic love, you should better walk away.
Don't promise to come back even if he starts calling you and chasing you desperately.