How to recognize a Gemini man in love in a crowded room?
He is a person with a spontaneous and fun-loving personality, but things become even more surprising when he falls for someone.
Due to his zodiac sign's traits, he has a child-like spontaneity and curiosity for everything in the world. This guy is fascinated and interested in a variety of objects and people, so it might be a bit complex to tell if he really likes you or he just gets attracted for a moment.
Keep reading to find out what a Gemini man secretly in love often behaves.
What are Secret Signals of a Gemini Man in Love?
Sometimes it can be hard to read signs from your love interest.
How to know if a Gemini man loves you?
Will your Gemini crush have a crush back on you?
After all, men are not really open about their feelings, especially when it comes to affairs of the heart. Fortunately, you will get a key to his personality, his behavior, and even his desire nature if having clarity about his zodiac sign.
Talking about signs a shy Gemini man falls in love, it is quite a challenge. Symbolized by the Twins, he is a charming and flirtatious guy. Rather than focusing his sight on one lucky woman, he tends to flirt with many people.
It's not that he is unfaithful or not loyal; in fact, he is just naturally easygoing, sociable, curious and playful. The moment you see a Gemini male, he may show his interest in you at first but then would move on to someone else. Don't be surprised!
So, is there any chance that he will come back to you?
The trick to know if he has feelings for you is to take a wait-and-see approach.
Maybe you can try attracting your Gemini man and see how he reacts.
If you find that he keeps appear around you for more scintillating conversations and if he seems so delightedly aroused, your task is to keep him excited during the talk. Try to challenge his wits or come up with fun quiz for him guessing.
Never make him feel dull or he will soon end the chat.
Top 7 Signs on How a Gemini Man Expresses Love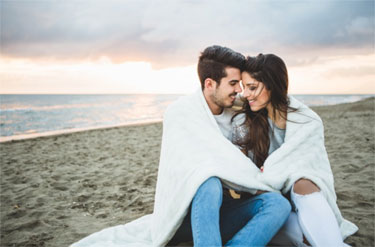 1. He is sweet and romantic
When a Gemini man is in love with you for real, he will say no to constant flirtation with others and become an extra sweet and romantic boyfriend. Most of the time, he will compliment on your appearance, be caring to your needs, and do the skinship in the public.
If he truly loves you, he will say nice words and do everything to ensure you feel special and happy. Also, his cute gestures of romance will make you irresistible – get ready for his passionate affection in the public.
2. He talks to you as much as possible
Very communicative, he will make use of all communication methods to let you know his deep feelings for you. From text, email, video chat and social media to telephone, he will utilize everything allowing him to make extra contact with his love interest.
By talking to you, he can share his ideas, thoughts, and opinions…almost the whole thing. He will send lots of texts or interesting information to cheer you up and make sure you know he is attentively caring about you.
Whenever having free time, Gemini man will communicate with you to show you how much he loves you.
3. He wants to have more experiences with you
This guy is known for his addiction to risky, exotic experiences.
Therefore, if you have no idea whether or not he likes you, then wait and see if he brings you to interesting places. Gemini man in love always expects his partner to join him on all kinds of adventures.
Creating more experiences is a way to get him to miss you when you're not around him.
4. He is full of surprises
As I told you earlier, he is extremely romantic in love.
He is excited to show you he likes you by preparing spontaneous romantic dates – this is how he displays his affection towards you. For example, he may suddenly show up at your house at night and take you on a fascinating adventure.
Being in a relationship with a Gemini man is like a fun ride because you won't know where it will lead you to. Once he has feelings for you, he will share with you things inspires him and cover you in spontaneous, exciting activities.
Check his expectations when Gemini man finds his love partner!
5. He frequently sticks by your side
Wonder how a Gemini man in love behaves?
If he truly falls for you, he will follow you wherever you go. As long as he knows your plans, he will adjust his so that he can spend more time with you. There might be times he accidentally runs into you; well, they are actually not really accidental.
It's not that he is jealous or possessive; actually, he just misses you.
Known as a social butterfly, he will take you to interesting places to make sure both will have a good time together. This guy never gets tired of finding opportunities to become closer to you.
6. He showers you with gifts
When a Gemini man loves you, he seems very generous with gifts. In other words, he won't spare any expense just to make you happy. That explains why this guy usually comes up with different kinds of gifts.
Born under an air sign, he is famous for his inventiveness. And…with a creative mind, he has no problems in channeling his feelings into thoughtful gifts.
Guess what?
He does not give you gifts as a way to show off; in fact, all of them are tailored to meet your needs. Rather than buying you a present, the Sagittarius enjoys making it with his own hands. He satisfies with the thought of using his creativity to impress and win your heart.
7. He gives mental compliments
What are Gemini man signs of interest?
The moment he finds out his feelings for you, he tends to shower you with compliments; however, his compliments are quite unique. They are not what you usually hear from the daily life.
If he is interested in you, he will first praise you for your ideas and intelligence. In case you two are having a quiet conversation, he will surely talk about how good your advice is, how reasonable your opinions are, and how positive your attitude is as well.
Of course he will give compliments about your stunning dress, alluring eyes, and magnetic personality. But, he keeps reminding about your mental prowess most of the time.
His mental compliments are warm and sincere!
What Type of Woman a Gemini Man Loves?
This guy has incredibly high standards and does not want to settle for anyone, due to his zodiac personality traits.
Certainly, Gemini man not only looks for a woman with physical beauty, but he also expects his future partner to be able to keep up with his intellectual conversations. His excitement for you will soon fade once he knows you have nothing but good looks.
As this guy loves to talk, he wants to be with a lady whom he can comfortably chat with for hours. Impress him with your intelligence by confidently joining him in different debates; in addition, show your support to him in any social situation.
The Gemini man quickly falls in love but also gets bored easily.
This flirty guy needs a deep woman who can find lots of interesting things to say with him as well as can shower him with new, exciting things.
Conclusion
He is hard to pin down and not easy to let you read his mind.
However, Gemini man secretly in love will display signs accidentally. Be an observant and you will get the answer to how to know if he is interested in you. In addition, understanding his love traits will help you build a strong and lasting relationship with this complex guy.
For any question about the topic here, leave your comment below!
Incoming search terms:
gemini man in love behaves
how to know when a gemini man is in love
signs gemini man attracted you
gemini man in love
gemini man in love signs
gemini man secretly in love
how does a gemini man express love
when a gemini man is in love with you
how to know gemni man like you
gemini man shy