How to recognize a Gemini man in love in a crowded room?
He is a person with a spontaneous and fun-loving personality, but things become even more surprising when he falls for someone.
Due to his zodiac sign's traits, he has a child-like spontaneity and curiosity for everything in the world. This guy is fascinated and interested in a variety of objects and people, so it might be a bit complex to tell if he really likes you or he just gets attracted for a moment.
Keep reading to find out what a Gemini man secretly in love often behaves.
What are Gemini Man Characteristics in Love?
Sometimes it can be hard to read signs from your love interest.
How to know if a Gemini man loves you?
Will your Gemini crush have a crush back on you?
After all, men are not really open about their feelings, especially when it comes to affairs of the heart. Fortunately, you will get a key to his personality, his behavior, and even his desire nature if having clarity about Gemini man characteristics in love.
Talking about signs a shy Gemini man falls in love, it is quite a challenge. Symbolized by the Twins, he is a charming and flirtatious guy. Rather than focusing his sight on one lucky woman, he tends to flirt with many people.
It's not that he is unfaithful or not loyal; in fact, he is just naturally easygoing, sociable, curious and playful. The moment you see a Gemini male, he may show his interest in you at first but then would move on to someone else. Don't be surprised!
So, is there any chance that he will come back to you?
The trick to know if he has feelings for you is to take a wait-and-see approach.
Maybe you can try attracting your Gemini man and see how he reacts.
If you find that he keeps appear around you for more scintillating conversations and if he seems so delightedly aroused, your task is to keep him excited during the talk. Try to challenge his wits or come up with fun quiz for him guessing.
Never make him feel dull or he will soon end the chat.
Brief Look at Top 7 Gemini Man in Love Signs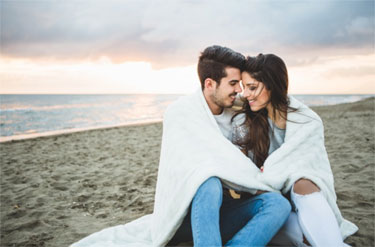 1. He is sweet and romantic
When a Gemini man is in love with you for real, he will say no to constant flirtation with others and become an extra sweet and romantic boyfriend. Most of the time, he will compliment on your appearance, be caring to your needs, and do the skinship in the public.
If he truly loves you, he will say nice words and do everything to ensure you feel special and happy. Also, his cute gestures of romance will make you irresistible – get ready for his passionate affection in the public.
2. He talks to you as much as possible
Very communicative, he will make use of all communication methods to let you know his deep feelings for you. From text, email, video chat and social media to telephone, he will utilize everything allowing him to make extra contact with his love interest.
By talking to you, he can share his ideas, thoughts, and opinions…almost the whole thing. He will send lots of texts or interesting information to cheer you up and make sure you know he is attentively caring about you.
Whenever having free time, Gemini man will communicate with you to show you how much he loves you.
3. He wants to have more experiences with you
This guy is known for his addiction to risky, exotic experiences.
Therefore, if you have no idea whether or not he likes you, simply wait and see if he brings you to interesting places. Gemini man in love always expects his partner to join him on all kinds of adventures.
Creating more experiences is a way to get him to miss you when you're not around him.
4. He is full of surprises
As I told you earlier, he is extremely romantic in love.
He is excited to show you he likes you by preparing spontaneous romantic dates – this is how he displays his affection towards you. For example, he may suddenly show up at your house at night and take you on a fascinating adventure.
Being in a relationship with a Gemini man is like a fun ride because you won't know where it will lead you to. Once he has feelings for you, he will share with you things inspires him and cover you in spontaneous, exciting activities.
5. He frequently sticks by your side
Wonder how a Gemini man in love behaves?
If he truly falls for you, he will follow you wherever you go. As long as he knows your plans, he will adjust his so that he can spend more time with you. There might be times he accidentally runs into you; well, they are actually not really accidental.
It's not that he is jealous or possessive; actually, he just misses you.
Known as a social butterfly, he will take you to interesting places to make sure both will have a good time together. This guy never gets tired of finding opportunities to become closer to you.
6. He showers you with gifts
Of all Gemini man in love signs, he seems very generous with gifts when falling in love. In other words, he won't spare any expense just to make you happy. That explains why this guy usually comes up with different kinds of gifts.
Born under an air sign, he is famous for his inventiveness. And…with a creative mind, he has no problems in channeling his feelings into thoughtful gifts.
Guess what?
He does not give you gifts as a way to show off; in fact, all of them are tailored to meet your needs. Rather than buying you a present, the Sagittarius enjoys making it with his own hands. He satisfies with the thought of using his creativity to impress and win your heart.
7. He gives mental compliments
What are Gemini man signs of interest?
The moment he finds out his feelings for you, he tends to shower you with compliments; however, his compliments are quite unique. They are not what you usually hear from the daily life.
If he is interested in you, he will first praise you for your ideas and intelligence. In case you two are having a quiet conversation, he will surely talk about how good your advice is, how reasonable your opinions are, and how positive your attitude is as well.
Of course he will give compliments about your stunning dress, alluring eyes, and magnetic personality. But, he keeps reminding about your mental prowess most of the time.
His mental compliments are warm and sincere!
When Gemini Men in Relationships…
✓ Pros
He is the flirty type
He always shows up with lots of surprises
He is awesome at offering romantic advice
He uses his large circle to support and encourage his partner
✗ Cons
He requires a lot of personal space
He is not a reliable choice for long-term relationships
He doesn't like to commit to anyone
Being with a Gemini, you'll realize that he will never leave you guessing. Once falling in love, his face is just glowing and his eyes are sparkling with all emotions. Even when he feels depressed or angry, he brings it all through his expressions.
When Gemini men in relationships, of course he loves to spend time with the partner, to cuddle and show affections. But, it doesn't mean they want you to be around them 24/7 – there are times when they need to stay alone and focus on their own lives.
Being in a relationship with the Gemini male is like riding a roller coaster!
For more interesting info, continue reading…
What Does Gemini Man Like in a Woman?
This guy has incredibly high standards and does not want to settle for anyone, due to his zodiac personality traits.
Certainly, Gemini man not only looks for a woman with physical beauty, but he also expects his future partner to be able to keep up with his intellectual conversations. His excitement for you will soon fade once he knows you have nothing but good looks.
Wonder the type of woman a Gemini likes easily?
As this guy loves to talk, he wants to be with a lady whom he can comfortably chat with for hours. Impress him with your intelligence by confidently joining him in different debates; in addition, show your support to him in any social situation.
The Gemini man quickly falls in love but also gets bored easily.
This flirty guy needs a deep woman who can find lots of interesting things to say with him as well as can shower him with new, exciting things.
Overview of Gemini man compatibility
Finding yourself daydream about a particular Gemini male? Wondering if you and he can make a great love match in general? How good are you two in a romantic relationship?
Let's gain insights into your compatibility with this handsome guy:
1. Sharing the same energy
Gemini woman can understand Gemini man better than any other lady, undoubtedly.
They are wonderfully compatible with each other despite the mood changes. Of course there will several issues between them due to their dual personalities, but things will go smoothly if they have serious conversations and learn to accept each other's mistakes.
Both can provide the excitement and freedom to each other making them feel comfortable in a relationship.
2. Best love matches
If your sign doesn't show up in this list, it doesn't mean things ain't go well with you and your Gemini…maybe the two of you need to communicate more and put much effort.
The Libra-born lady is pretty intelligent and well-versed in almost everything; thus, no one can fit for the Gemini male better than her. The romance is in the air – both are capable of making conversations eye to eye.
These two have good senses of humor so they can entertain each other 24/7.
Aquarius woman has her own charms that will certainly turn on her Gemini.
From the very first meeting, her wit and clever talks will grab fully his attention; at the same time, his carefree attitude will also captivate her heart. If they can open up with each other on the intellectual level, this love match will last forever.
There's no way a Gemini man can resist the Aries lady – not only because she's a fiery match but she also has the capacity of making him fall head over heels. Passionate and adventurous, she tends to live her life to the fullest just like him.
Sometimes her intensity and temper could scare him off as he's not the type getting himself involved in conflicts or arguments.
Leo woman is another fiery match that goes along well with the Gemini guy.
What about her attracting him? Aside from the beauty, she possesses a well-bred charm that somehow can bring an air of warmth and fuzziness to his heart. This combination works pretty well; however, the lioness must control her neediness a little.
3. Potential matches
As you can see, the ideal type of woman for Gemini man is not fixed; actually, the relationship of him and a certain person can work out or not, it depends on the whole birth chart, not only the sun signs.
So here are some potential matches he can feel comfortable around:
The pairing of Taurus woman and Gemini man will find the love spark if the female learns to handle the male's need for constant incitement. Since she is consistent, his changeable behavior really irritates her. For the relationship to work well, both must come up with compromise.
Virgo woman expects nothing but a stable long-lasting relationship from Gemini man. Though he is a free spirit, it doesn't mean he cannot commit. Make it shortly: if his love for the Virgo lady is big enough, then he will go against his own rules.
Coping with Virgo's criticisms is a huge challenge for Gemini; meanwhile, she sometimes can't stand of his mood swings. Nevertheless, these two will create an incredibly strong love bond if their relationship is stirred on the right path.
4. Worst matches
There are 3 signs unlikely to work well with a Gemini man, and they are:
Pisces woman
Scorpio woman
Capricorn woman
5. Opposite attraction
In spite of their differences, both Gemini man and Sagittarius woman are captivated by each other's personality and charm.
Her spontaneity, intelligence, and sense of adventure are what he loves most.
Their horoscope signs are totally opposite in the zodiac, but they are well known as free spirits and can back up for each other if needed. Where one lacks, the other is able to complement well. None of them feel the thirst for commitment, so this relationship works perfectly for both.
They give each other appreciation and personal freedom; overall, Gemini and Sagittarius is a good match up. The one and only matter is that there's a lack of motivation between them; luckily, they're willing to fix it.
When Gemini man in love with Cancer woman…
How compatible are Gemini man and Cancer woman?
This loving and caring lady is also a potential match of the Gemini guy. She dedicates everything to her partner once both are involved in a relationship. The trouble between them is that the male can't provide her enough the security she always craves for while the female often makes him suffocated.
The relationship of these two individuals has the possibility of success but the process is quite hard and full of elbow. Both do need maturity and understanding to reach towards the very end.
Check Gemini Man Weakness in Love HERE!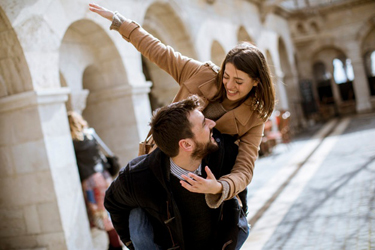 When Gemini man falls in love, he unreasonably becomes so impulsive, confused, and whimsical sometimes. This explains why you find it hard to get along with him though he's seen as an outgoing, social person to be with.
It's his twin personality makes him super difficult to handle.
Let's have a look at some of his weaknesses if you're dating a Gemini:
1. He is impulsive
On the bright side, he is adaptive; ironically, his flexibility is also the reason making him impulsive. Not even a minute, the Gemini guy can give out decisions and change his mind in a microsecond. Due to this impulsiveness, he ends up being reckless and doing things superficially.
2. He is indecisive
While he is overly analytical, he can be indecisive on the flipside.
Your Gemini partner will get anxious easily or terrified when it comes to making decisions. He's okay with dating; however, his nervousness will appear whenever the commitment matter is brought on the surface. As a commitment phobic, the idea of settling down can scare him to faint.
3. He is unreliable
The first two weaknesses already turn him to an unreliable guy.
Lots of his plans haven't accomplished yet because he tends to shrug off his responsibility. Not really irresponsible, he is definitely not the ultimate choice to take in long-term relationships.
He doesn't want to do anything that force him to stick in one place or cannot excite him.
4. He is interfering
Do you know Gemini man is quite curious?
Well, it's the price of his interfering nature! He loves talking or specifically gossiping which sometimes annoys his partner. Never reveal all of your secrets to him or you must accept the fact that he will leak out some information at times.
If you have too many personal secrets that need to be kept forever, then a relationship with a Gemini may be not an ideal option.
5. He is not passionate
Or more accurately, this guy lacks passion in the bedroom. Though he enjoys having sex talks, he's not good at displaying intimacy or expressing his feelings through actions.
He is guarded in bed most of the time, so you could feel disappointed.
Conclusion
He is hard to pin down and not easy to let you read his mind.
However, Gemini man in love secretly will display signs accidentally. Be an observant and you will get the answer to how to know if he is interested in you. In addition, understanding his love traits will help you build a strong and lasting relationship with this complex guy.
For any question about the topic here, leave your comment below!