Misunderstandings arise and you had an argument with your Gemini partner.
What to do when a Gemini is hurt? How do they act at that moment?
In fact, things depend on the situation. Sometimes they will try to restrain their own feelings to avoid involving you; however, there are some circumstances in which they get irritated with everything and just want to shut you out.
Gemini individuals tend to ignore and push their lovers away when getting upset and this accidentally creates a big gap between the two of you. People who are dating Gemini can't help feeling confused by their behavior most of the time.
It's time to understand what is going on in the head of a Gemini as well as how he deals with his emotions.
Let's dive into today's article!
5 Signs Your Gemini is Getting Hurt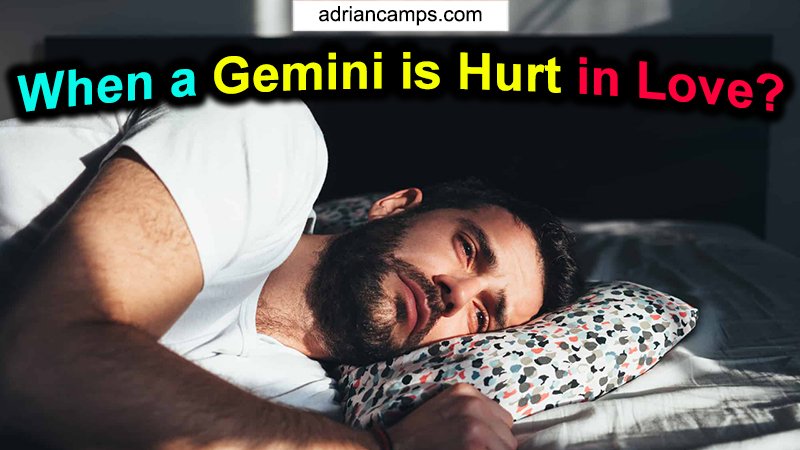 1. Staying quiet
If you have no idea about how a Gemini acts if they get hurt in love, let's observe their attitude after you two disagree or argue with each other. Do they go quiet or not? In case you find your Gemini partner stops talking to you and walk out of the room, perhaps they really get upset with what you have said.
All you can do at that moment is to leave them alone. Give them their own space to reload their thoughts and decide what to do with the situation. It's better to have a calm discussion when both of you are already cool off. You should be honest about how you are feeling and they will also open up in return.
It's a big no to put pressure on Gemini and force them to talk immediately after the argument.
Check out Gemini rising appearance here!
2. Asking for the privacy
Gemini will ask for time alone when they feel suffocated with the relationship with you.
When you and the Gemini partner have a disagreement about a matter, they will leave the conversation. That means they want some time to settle all frustrating ideas in their head. It's never a wise move to change their mind instantly as Gemini may think that you're trying to take away his freedom. Instead, let that person do whatever they want and they will come back to you with a fresh mind.
It's not that bad to let them enjoy some moments alone. They will soon realize that they have overreacted; soon, they will come back to you and suggest a calmer and more collected talk. With a better manner, you two can discuss and solve everything.
Listen to what your intuition wants and find an appropriate solution for the situation you are in. Give some headspace to them as well as focus more on yourself simultaneously.
3. Giving the cold shoulder
One of negative trails of a Gemini in love is that they will give you the cold shoulder when you two have some problems and disagreements. It's never easy to fall in love with a Gemini because they have issues with the commitment. Known as a flirt, no one knows that they are protective over their emotions and feelings.
What if something has occurred and hurt him?
You expect them to discuss the matter with you directly, right? Well, that's not gonna happen! Gemini prefers to give you a cold shoulder before seriously talking out their thoughts. While giving him the space he asks for, you can send a short text or a voice message per day to let him know you do care for him.
4. Not explaining at all
Don't expect your Gemini to explain reasons making them hurt.
They may be social and outgoing, but they are not always good at expressing as well as discussing what they think or feel from deep within. Instead of telling you right away about things bugging their mind, they simply leave you to figure out everything.
You are sure that they don't act like their normal self, but you will never know the reason for that weird behavior is you. Moreover, the Gemini partner has no plan to talk about that; they don't want to bring their vulnerable side on display.
When they act like that way, honestly you can't do much.
For those who wish to stay with Gemini for a long term in romantic relationships, you must be aware that they will act like this at certain times. Try to figure out what has made them feel upset and behave differently. It can't be rush when it comes to Gemini inner feelings; thus, please be patient.
5. Having a hard time to communicate
It's hard to communicate when a Gemini is hurt.
Are you in a relationship with a Gemini? You can easily realize that they have a difficult time making an emotional conversation, whether they are male or female. The role of communication in love relationships is important. Without honesty and openness in all talks, the love between you and Gemini will go nowhere.
You should do something to boost their confidence. Show them they can talk to you comfortably and openly about anything. Most significantly, don't judge or criticize them in front of others; also, it's not good to pressure them to talk when they're not ready.
There's a thin line between encouraging and forcing, so be careful.
Final Words
Besides, when a Gemini is hurt, they also act as if nothing happened and display a different attitude.
In love, most Geminis are loving and caring. Though they got the not-so-good reputation about committing in relationships, they will stay loyal willingly once finding the right partner. The thing is: it's hard to understand their feelings when you two argue because they tend to keep it inside.
It may take a long time to figure out what a Gemini is thinking as they don't communicate openly with anyone, even their family and friends.
Gain their trust and slowly you will see more from their vulnerability.
Leave your comments below!