Men born under the Gemini sign are gifted with a dual nature making them change from light and lively moods to dark and mysterious vibes.
Either way, they are always captivating and charming.
Well, a Gemini man has no problem in catching your attention and attracting you romantically if displaying his magnetic personality.
Compared to others, Gemini male traits are much harder to handle due the union of dualities. Each pole of his persona is unique and different – one is positive, one is negative, and he also has a dark side.
For a better understanding about your Gemini, keep on reading!
General Personality Traits of a Gemini Male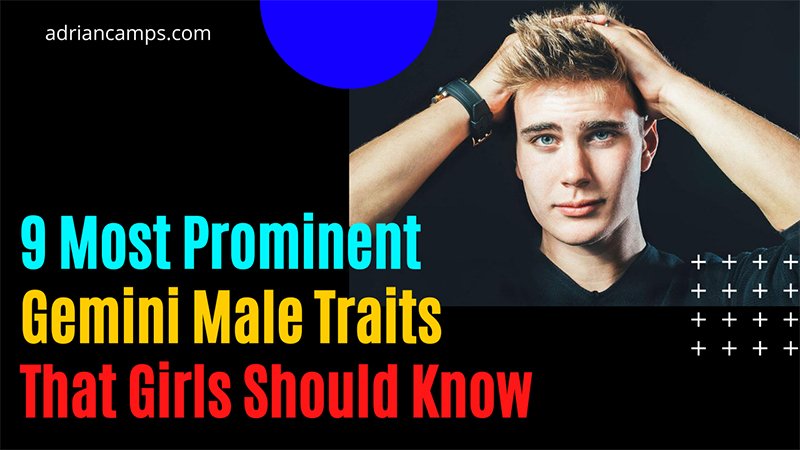 Talking about the guy astrologically symbolized by the Twins, we can't ignore the duality of nature packed with his sign. Undoubtedly, he has an enigmatically dual nature marking him as a person hard to comprehend by most people.
One is good while the other is bad
One is light whereas the other is dark
You'll soon get confused with him because of his quick-changing moods. He can be very happy and delightful in one moment, but then he may throw his anger at you in seconds.
Here are some generally positive and negative traits of a Gemini man that you should have a glance at:
The good
The bad
He is usually:

Friendly
Enthusiastic
Witty
Adaptable
Fun and cheerful

But he can also be:

Moody
Inconsistent
Unreliable
Quick-tempered
Irresponsible
In general, Gemini man represents both the yin and yang.
Discover more:
1. Always on the go
As Gemini is a mutable air sign, it's difficult for a Gemini male to sit still and do the same old things. Actually, he is restless and ready to seek out adventures at any time because of his cravenness for new experiences.
His need for constant mental stimulation is what keeps him on the move!
He physically and mentally wants to travel to lots of interesting places where he can meet and interact with more people. A Gemini loves to enlarge his social circle. No matter what life offers him, he willingly deals with it with ease; also, he is adaptable to changes.
If you want to get the Gemini male hooked, plan something novel and exciting.
2. Get bored quickly
For those who're in a romantic relationship with this guy, keep in mind that he is easily bored.
He can be a perfect boyfriend because who wouldn't want to be with a clever, witty, and bright man; however, if you want to make him your life partner, then consider it. He is slow to commitment and gets fed up quickly.
As I said earlier, your Gemini has a big thirst for new adventures and experiences. If someone or something is no longer interesting to him, he will instantly move on to who or what captivating more.
Let's see how Gemini man deals with a breakup here!
This Gemini characteristic, as you can tell, is not healthy for a relationship.
3. Excellent with communication
Ruled by Mercury, the planet of communication, no wonder Gemini man is claimed as a great communicator. He is talkative by nature and loves to talk; thus, don't be surprised if you see him talking all the time.
With his natural curiosity and intelligence, he always has something to say. Not really an expert of a particular field, indeed the Gemini male knows a little about everything – that fortunately helps him hold conversations without any difficulty.
You'll get excited talking with him as he covers all topics well.
Moreover, his friendly attitude allows himself to get along with everyone he encounters and feel comfortable towards his surrounding.
4. The youngest of the zodiac
Or, you can say that Gemini is like the zodiac's child.
When I say he's like a kid, I mean that he will feel happy, bright, and carefree as long as he gets what he wants or things go smoothly his way. In case it happens the other way, his personality and behavior will alter immediately. Guess what? He will become sulky, stubborn, and unruly.
Not only his mentality, but his physical appearance also looks much younger than his actual age. Be jealous of him girls as he's always full of youthful vitality!
5. Smart and intuitive
Women love Gemini man as he is intelligent and extremely intuitive.
Having an insightful boyfriend is great as he can touch your deepest feelings without the need of asking questions. With an amazing intuition, he easily spots whether or not you are in the emotional mood.
He's intellectual enough to know what he is saying; however, your Gemini is not the right person to reveal your secrets because he loves sharing what he knows to people around. Though it may not be his intention, he can be superficial and gossipy sometimes.
As he's confident with his intelligence, he freely says things without checking the accuracy; this often leads to many problems.
6. Take life to the fullest
To a Gemini, life is a game for sure.
He cannot stand a boring life with routine; instead, he won't mind dedicate everything for the continuous stimulation. Gemini man is all about freedom and independence – no wonder he dreams of a life filled with new things and exciting people.
This is the guy who will take life to the fullest for sure, and he has to be the one coming with the rules. He is not the type enjoying being controlled. If you're interested in a Gemini man or currently in a relationship with him, please remember that he is perfect for a mate who is vivacious and inquisitive…just like him.
7. Great flirting skills
Did I tell you the Gemini male is an efficient flirt?
Well, you have to agree with me that he got skills – this guy knows very well how and when to turn on his charm. He is good at playing games and will shake your feelings with only excitement. Sadly, the moment you want to get close to him, his stare has laid on another woman.
Even though he's so flirty, you can't help but finding him super attractive.
The way he draws you in is enchanting and irresistible. Don't think that he will cheat on you because he is a flirt; however, it's hopeless if you try to change him because he is eternally flirty.
At the end of the day, if you're okay with this trait, it's not bad to experience a relationship with this charming man.
8. Pull back and act cold
Gemini man is an extrovert and a restless spirit, but it doesn't mean that he's unable to feel vulnerable. Due to his terrible mood swings, he can act cold and pull back all of sudden. Remember his dual nature? He can be social and playful on one side; yet, his other side is distant and independent.
When a Gemini falls in love, he will enjoy being around you…but don't demand him to stay next to you 24/7. He has his own life and wants to spend time alone without anyone's interruption.
The withdrawn act in this case means he feels constricted and craves for his personal space. There are many reasons explaining his cold behavior, not only that he wants to fall out the relationship.
9. Amazing sense of humor
Gemini man is typically funny and often described as a comedian.
With his quick-witted trait, he knows very well how to make you laugh and also how to respond to your jokes naturally. This is another charm why women find this guy irresistible.
You usually love the man that can bring giggles to your life effortlessly.
Summary
In short, a Gemini man has a huge love for freedom and doesn't want anyone else to invade it. He dislikes the interaction with any invisible string, so never force him to commit; otherwise, he will run away.
If you are in love with him, then let me remind you that he barely gets jealous and possessive. Nevertheless, don't try to test him – this guy tends to become mad when he feels insecure.
Because of the influence of Gemini male traits, he is always full of passion and affection at the initial stage of a relationship. Full of creative ideas, he makes sure to shower you with romantic surprises.
The only downside is that his passion does not last long!
He has no trust issues and completely trusts his lover; in return, he expects you to give him the same amount of reliance. For girls who look for a fun romance ride without requiring loyalty, get yourself involved with Gemini man.
Leave your comment below in case you have questions!