Geminis are intelligent, active individuals ruled over the air sign.
People born under the Gemini sign have a restless mind which means they never stop thinking and learning. They have an urge to discover all the unexplained mysteries and new things in life.
Why are Geminis so special?
Actually Gemini personality is more than that.
Many find that most Gemini natives possess plenty of unique traits and characteristics that only those spending a long time with them can realize. If you want to get a better look of the individuals symbolized by the Twins, check these following qualities.
Top 7 Traits Making Geminis Irresistible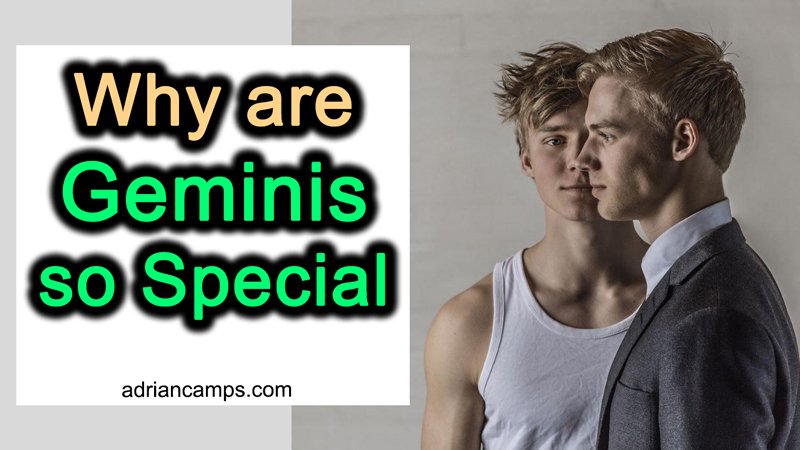 In fact, because of the Twins symbol, Geminis get a bad reputation for being emotionally detached, inconsistent, indecisive, and two-faced. However, if you try to get to know a Gemini better, you will realize that they understand and read people well.
Now let's find out why they are irresistible:
1. Very independent
The first thing about Geminis is that they are extremely independent and self-determining. Rather than living under the shadow of someone else, they prefer to take risk to walk on their own path. No one can control a Gemini because they are not easily pinned down.
Gemini values freedom a lot. They are independent and freedom allows them to discover and live this life to the fullest. Don't try to tie them down in one place or ask them to the routine; otherwise, they will run away from you soon.
If you are in a relationship with a Gemini, respect their personal space.
2. Having a restless mind
Don't be surprised if Geminis seems to work constantly – it's because their mind is full of thoughts and ideas all the time.
They are intellectual people. Ruled by Mercury, the Gemini natives are beautiful, quick-thinking, witty, and very moody. Since this sign is the messenger in the zodiac, those symbolized by the Twins are talkative and love interesting conversations.
Extremely adaptable, they can adjust all sorts of thoughts, ideas and questions in a short span of time. They have a huge curiosity about literally everything in this universe and will keep their mind work restlessly until getting the answer. Due to their diverse passion and interest, it's hard to focus on one thing for too long.
Discover more traits making Gemini attractive to others!
3. Direct and straightforward
They have no problem to express their thoughts and opinions.
As I told you, there are lots of things happening in a Gemini's mind, and they aren't afraid of sharing them to the world at certain times. These people know many interesting stories and willingly tell everyone.
If you have any secret, however, don't reveal it to Geminis because they will tell others without remembering the promise they made with you. In an argument, they won't hesitate to express their opinions. Normally they will share anything in their mind, except their personal matters.
Once your Gemini boyfriend becomes secretive, the chance is that they care for you.
4. Supportive and encouraging
Yes, Geminis are the friend you all want to have because they are supportive and encouraging. These people can read you, especially when you are suffering from problems or difficulties. Instinctively, they have their own way to make sure you are okay as well as make you feel better.
A Gemini friend is great at giving advice. So if you are in need of a helpful advice, no one is better than this master of communication and persuasion. When it comes to friends, Geminis are generous and always offer help with enthusiasm.
They are the type of friend that will always have your back.
See also the soulmate to Gemini sign with a click!
5. Having different perspectives about world
No many know but Geminis see the world differently than anyone else.
Of all zodiac signs, Gemini is the most versatile and adaptable. They can live well in new surroundings and circumstances much faster than others. Due to their curiosity and eagerness to discover new things, they are able to deal with any matter that life throws towards them.
Most Gemini natives believe that everything in life is a game, and a game is never permanent; thus, they aren't afraid to take risks. One of their goals is to live their life to the fullest with no regret.
You won't see a Gemini gets mad or upset for a long time.
Whenever they feel down, they will seek any interesting things to do and keep positive thoughts in mind. They view a situation from both sides, and conversations with them are indeed deep and thoughtful.
6. Reluctant to commit
We all know that Geminis feel pressured if someone asks them to commit in a relationship. They seem reluctant to make commitment to any one person; however, it doesn't mean they are not serious in love.
Because of this trait, many think the Gemini is flirty and unfaithful. In fact, once they truly fall for you, they fall hard. The moment they open up their heart and let you in, you know that he already becomes an incredibly loyal partner.
For your happiness, they make sure to fulfill all your wishes and needs.
When Geminis are truly in love, they love hard.
Never think that these people are not sincere; actually they care deeply and can be jealous when seeing you quite close to anyone else but them.
7. Having an incredible sixth sense
Did I tell you before that Geminis are very observant?
They are the curious creature that can't help but constantly observing the surroundings and gathering new information whenever they go to somewhere. The Gemini loves to learn new things and experience things that no one has ever tried before.
Gemini-born individuals won't just look at the surface of a situation; instead, they will dig to get to the bottom. They are called natural investigators for a reason. That's why you shouldn't think of lying or cheating a Gemini as they read you well like a book.
They are gifted with a sixth sense to detect liars or anyone that's being 'fake' around them.
Final Words
So now you can answer the question 'why are Geminis so special,' right?
They usually get a bad reputation from people who don't understand them well. Nevertheless, in reality, they are everything. All the prominent traits and personalities above will help you realize how incredibly amazing they are.
Leave your opinions below if you still have any question or confusion about the topic here.