People born under Gemini sign often get a reputation for their dual personality.
Many think that Gemini is the troublemaker of the zodiac and usually causes lots of problems because of their dramatic moods. However, all of your prejudices about this zodiac sign's characteristics are not fair and completely accurate.
In fact, like others, Gemini does have their strengths and weaknesses.
Is Gemini the best sign?
Not so sure, but you'll realize that these individuals possess lots of irresistible traits which aren't noticed at first glance. Having one or two conversations won't help you understand a Gemini native better.
That's why we're going to make a list including their most outstanding qualities – check and answer whether or not Gemini is the best sign by yourself.
What are Gemini Eminent Personalities?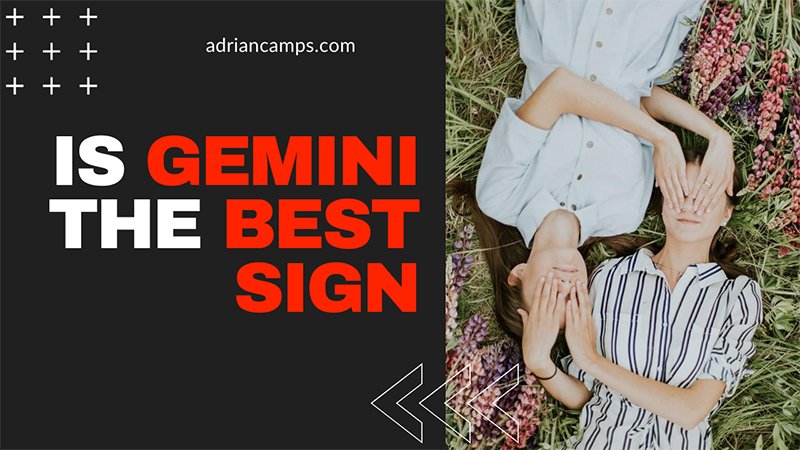 Let's find out reasons making the Gemini sign a total BADASS in the following:
1. Full of self-esteem
You may wonder why Geminis are so attractive; well, it's because they are gifted with an absolute sense of self-esteem. They know exactly what they are good at and not really pay attention to others' criticism.
To a Gemini, everyone is equal. Yet they always treat themselves with a higher level of love and respect. Among all zodiac signs, their self-esteem is incomparable and also one of their greatest strengths.
Did you know confidence can make one become more attractive?
Gemini recognizes their worth and value in both personal and professional relationships; this explains why they easily gain the respect from people around them.
What we love about Gemini is that they are willing to help others to achieve their own self-esteem once reaching their full potential.
2. Cheerful and optimistic
This hectic life may put a lot of stress on your shoulder; nonetheless, Gemini does not waste time on that. Instead, one of their goals is to enjoy this life to the fullest.
Considered as a positive sign in the zodiac, these people always handle every situation with a positive attitude. Positive makes positives, they believe! Even when things don't turn out well as expected, they will try to focus only on the bright side rather than getting freaked out.
Once a Gemini feels anxious or intense, they tend to think about individuals who are suffering from tougher circumstances than they are. They make that a habit and avoid comparing themselves with those in better condition.
The way you feel depends on how you view the world.
You rarely find the Gemini is pessimistic; instead, they approach life with cheerfulness and optimism.
Let's find out how a Gemini deals with the breakup with a click!
3. Extremely independent
When people are in love, most of them become more dependent on their partner and try to change themselves to make the other happy. The thing here is: don't expect that if your lover is a Gemini.
They fall hard and passionate in love like anyone else, but never ask them to be someone unlike their true selves as well as to sacrifice their freedom. Gemini natives need no one to make them feel loved because their self love is indescribable.
These individuals are extremely independent and have no thought of relying on others, even if you're their beloved. They want to achieve their life objectives on their own – no surprising at all if people with the Gemini sign can go far in life.
You will never find a clingy Gemini because that's the quality they dislike the most.
4. Super adaptable
Of all Gemini traits, we're kind of impressing with their ability to deal with change immediately. This quality is a must to everyone in this tough life – without adaptability, everything will be difficulty to cope with.
Wonder how a Gemini looks like…have a look!
Gemini is one of few zodiac signs that can handle changes well. Since these people love learning new things and experiments, they have no problem facing differences in life. When it comes to living in a completely new environment, they can survive well.
They usually prepare themselves well in a certain situation to make sure it flows smoothly and effectively. Rather than digging into the same old issues, they prefer to focus on moving forward and putting all of their effort for the present.
Not to mention that Gemini is very calm and collected mentally; nothing, even the tiny bit of inconveniences, can give them stress.
5. Versatile
It's hard to resist the Gemini because they are versatile and charming in their own way.
In the working field, this person is also versatile in their skills as well as capacities. Don't be surprised if your Gemini partner is fluent in more than 3 languages, is excellent in cooking meals, or has an incredible voice.
Astrologically, their talent in various areas is a gift from Mercury, the ruled planet.
Versatile in both physical and mental, they can deal with all difficult tasks at the same time with ease. As we said, their versatile nature is really a valuable gift as it not only plays a big role in their career world but also helps them with their romantic life.
Outgoing and social, the Gemini is the most ideal option to hang out with. If you're the one planning the date, then don't need to worry as Geminians are not the picky type. As long as you're happy, then they will follow you to wherever you go.
Nevertheless, keep in mind that they're eager to learn new things; you should come up with adventures to exotic destinations to bring them excitement. Your dating life shouldn't stick with the same routine, or they will soon get bored.
The Bottom Line
In general, nobody can be more charming than a Gemini. They can read what's going on in one's head well and are also good at capturing the crowd's attention. As a brilliant observant, they know exactly your interest and are capable of winning your heart with just a simple conversation.
Aside from their charming personality, Gemini can easily captivate others' heart by their gentle manners and wonderful etiquette. They are not the shy or reserved type; in fact, they take advantage of their strengths whenever they want to attract someone.
You will be unable to say no to people with the Gemini sign.
So, is Gemini the best sign in the zodiac?
I believe that you already have the answer of your own!