Is Gemini man obsessed with Scorpio woman at the beginning?
Both are sensual, so not surprising if there's a lot of sexuality between them. Their relationship will be full of exotic adventures and journeys. However, it may be hard for them to be together in a long term.
Scorpio woman is cold and distant at first and what she doesn't like in a Gemini man is his unfaithfulness. On the other hand, the male is adventurous and risky when seeking a lover. He won't hesitate to end his relationships just because he feels bored and no longer interested.
Gemini and Scorpio have a pretty good compatibility rate in the horoscope.
Let's find out in today's article!
Obsession of Gemini Man with Scorpio Woman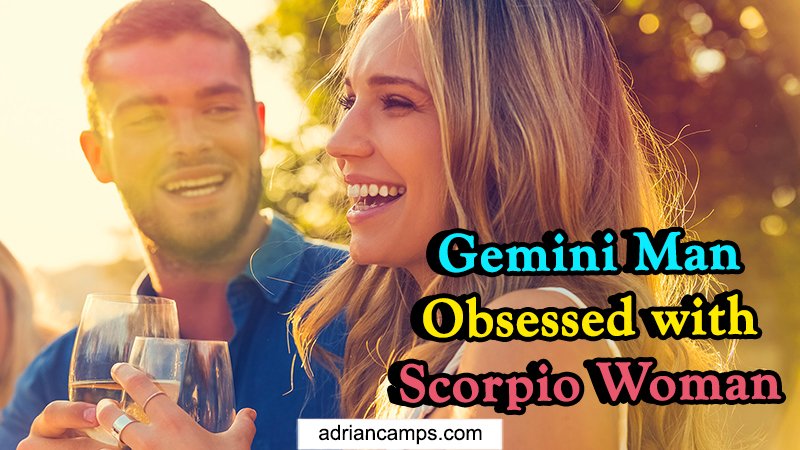 This couple will be fascinated to each other at first.
When it comes to a love relationship, Gemini man feels impressed with Scorpio woman's strong and courageous nature. Did I tell you one of this guy's weaknesses is indecisiveness? That's why he gets attracted to the lady's determination!
I mean who couldn't be captured by the sensual and gorgeous Scorpio female?
Not an exception, the Gemini male can't help but also falling for her irresistible charms.
She expects to be in a committed relationship with a man who does not interfere with her private space, is able to keep up with her pace as well as to adapt to her moody behaviors easily. Both Gemini and Scorpio are intelligent and mysterious in their own ways.
Also find out what a Scorpio man likes in a Gemini woman
At the beginning of this relationship, these two need to take some time to get to know and adjust to each other better. As long as both are considerate to each other's differences and willingly share responsibilities, nothing or no one can mess up with this couple.
I. Things a Gemini man needs to do:
Well, this guy should know that his lover needs to be loved all the time. Don't just look for adventurous journeys to try out with her. Sometimes she needs nothing but his full attention and time.
She is the person not falling in love easily. Therefore, during the chasing or dating period, it's necessary to give her time alone to reload everything. She finds it hard to gain trust from others and to open up her feelings as well; that's why Gemini man has to understand her needs.
Please don't force a Scorpio woman to be active and friendly in any case.
II. Things a Scorpio woman needs to do:
The first thing this lady needs to do for a long lasting relationship is to stop bringing possessiveness and jealousy on display.
We all know she tends to get jealous easily when being in love. However, if a Scorpio wants to stay forever with a Gemini, then she must let go of her suspicious nature. Try to understand that her partner is outgoing and extroverted, and learn to socialize more with people around.
Scorpio female should stop thinking that Gemini male will cheat behind her back every time seeing him laughs with someone. Having trust issues in a relationship is never a good thing and can create a sad ending to both.
Though Gemini is infamous for being a big flirt in relationships, not all are flirty. In fact, some Gemini men are loyal and honest to their partners. Therefore, try to trust him before getting involved romantically.
It's possible for Gemini man and Scorpio woman to stay fulfilling and happy together.
But, getting to that point needs plenty of works and efforts. These two individuals must have mutual understanding for one another. If not, this match may take a long time or be difficult to create harmony in love.
Overview of Gemini Man Scorpio Woman Compatibility
Wondering about the basic compatibility of this couple?
Scorpio woman:
Scorpio woman is the passionate and impulsive type. Intuitive and sensitive, she approaches most aspects in life with an intense emotional attitude, including love relationships. Rather than a big group of buddies, she feels comfortable with just a small social circle of her own in which she has a close connection with everyone.
It's hard to get to know a Scorpio lady because she has a natural distrust towards everyone. That explains why she is not really a person of social situations. If you betray or hurt her once, never ask for the second chance because it's very difficult to trust you again.
So, if you want to attract a Scorpio, gain her trust first.
On the bright side, she is an in-born leader with a very optimistic attitude towards everyone. Nonetheless, as soon as she feels like there's someone trying to harm her, she makes sure to bring out her sting.
Gemini man:
Gemini man has a split personality. Charming, masculine, handsome, and romantic, he has no problem to seduce ladies. Even tough Scorpio women can't resist his ravishing characters. He is very independent and wants to live a fullest life. With plenty of charisma and talent, impressing or chasing someone is not really a challenge to him.
Different from the reversed Scorpio, Gemini is sociable, outgoing, and curious with every little thing around him. He is good at making conversations as well as persuading people thanks to his flattering tongue.
Since he prefers to do everything on his own, he really doesn't understand the concept of jealousy and possessiveness.
You may think he is confident in all situations; nevertheless, this guy sometimes finds himself feeling insecure due to his indecisiveness.
When combining water and air together:
The truth is that a relationship of Gemini man and Scorpio woman is rare in the real life. It can be a match made in heaven or created the door to hell. Though their compatibility rate is good, there are lots of bumps between them.
From the first time going out together, they already take on a wild ride.
This pair may seem unusual, but it's actually great in the future if both are willing to compromise and work things out.
They will find common points of view if Gemini man tries to adapt to Scorpio woman's habits and behavior; also, her strong determination can help him come up with wiser decisions. Their relationship will be successful and compatible if both decide to put love, sympathy, and efforts in it.
Our Conclusion
So, is Gemini man obsessed with Scorpio woman?
The answer is yes!
He feels obsessed with this relationship at the beginning, but soon his attention will shift to other things because this guy gets bored easily. As partners, Scorpio woman must point out this weakness of Gemini man and help him strengthen it.
In short, the pair will make a beautiful adventure, but it's quite challenging if they want it to grow and be long.
For more information about this couple, leave your questions below.