Are Geminis and Scorpios compatible, in general?
With plenty of differences, both should learn to accept and understand one another. If this works out, nothing can separate this couple. The relationship of these two signs is quite passionate. As both have strong personalities, it's not surprising if they often argue with each other.
When Gemini and Scorpio come together in a love romance, they'll need to work hard for the ultimate happiness.
Learn about this pairing in the following…
Overview of Gemini and Scorpio Compatibility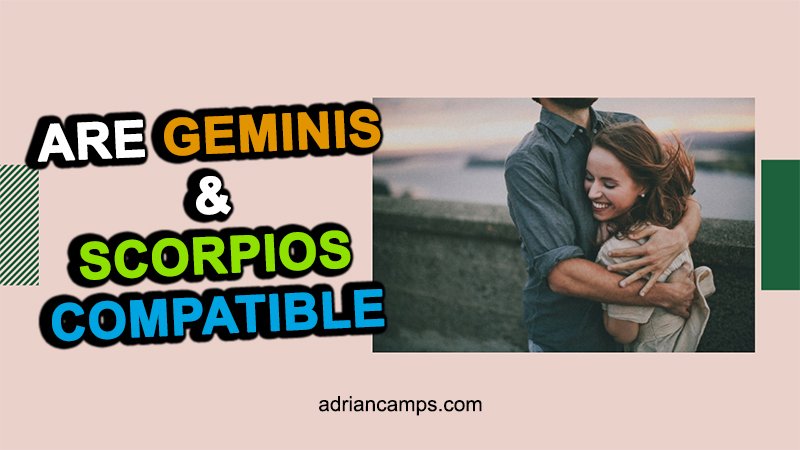 Before delving into the compatibility of both signs here, let's have a look at the character of Geminis and Scorpios firstly.
Related: Do Geminis and Libras get along well?
1. Gemini individuals
People born between May 22 and June 21 are Geminis.
Symbolized by the Twins, this sign is infamous for their "split personality". In fact, Gemini is a complex sign in nature and it's hard to guess what is going on in their head. Trying to figure out how their minds work can give you a headache.
Ruled by Mercury, people born under Gemini are great communicators. They are spontaneous, fast-paced and always on the go. Life is a big adventure to them; thus, they crave to take it to the fullest. They dislike routines or boring activities like lying on the couch and watching TV.
In love, Geminis easily get attracted to people who are extremely witty and full of humor. As an air sign, they are intellects, so they want to be captivated immediately through their mind. In addition, being influenced by a mutable sign makes Gemini yearn for variety and excitement. They get bored quickly and can't stand of doing nothing in just a few minutes.
They love to be in a relationship that can give them both love and freedom.
Click to know when a Gemini gets hurt!
2. Scorpio individuals
People born between October 24 and November 22 are Scorpios.
Symbolized by the scorpion, a dangerous creature, they are the most invincible amongst 12 zodiac signs. The dark side of a Scorpio is present obviously and that's their ability to remember everything, even small details. They can be obsessive, manipulative, suspicious, stubborn, and very jealous. But, on the bright side, they are the passionate, observant, loyal, and dedicate type.
This sign is ruled by two planets, Mars and Pluto. One is the God of War and one is the Lord of the Underworld. No wonder all Scorpio-born individuals have an air of mystery and are full of dynamic at the same time.
If Geminis are the intellectual, chatty, outgoing, and adaptable type, Scorpio-born individuals are intense, concentrated, determined and mysterious. They crave for emotional connection and intimacy on the deeper level; hence, they are extremely serious in relationships.
When it comes to love, Scorpios are extremely loyal and devoted to their partners.
Like others, these people do have flaws once engaging in a romantic relationship. Since they fall in love with the thought that their love has to be reciprocated, they can't help but expecting full attention and dedication from the significant one.
3. A Gemini and Scorpio match
This is a relationship of arguments. Not the negative argument you are thinking, but it's more like discussions about different things around them. Both Gemini and Scorpio love good debates. With the characteristic of a Gemini, discussing a variety of topics with a Scorpio is the epitome of mental stimulation.
Nonetheless, Gemini flirtatiousness can get on Scorpio's nerves due to their jealousy and possessiveness. If both can embrace each other with their own empathy and understanding, this match can work well.
The combination of these two zodiac signs guarantees no dull moments. They are passionate and dynamic, so they never miss a chance to add spice and make the relationship interesting. Together, they engage in lots of fun adventures.
It's not that there's no conflict between them. But, they should put much effort in reconciling with the other when things turn negative and intense. Don't add fuel to a heated argument; otherwise, the relationship can hardly last for a long term.
One of reasons stopping this relationship from moving further is the Scorpio's jealousy. They have serious trust issues; therefore, it's essential for Gemini to prove their reliability and honesty. In case you show any slight sign of unfaithfulness, Scorpio will instantly walk away from the relationship.
Gemini Man and Scorpio Woman: What to Expect?
This man finds Scorpio woman irresistible. Known as the most gorgeous and mysterious in the zodiac cycle, she can captivate Gemini man using her witty sense of humor and intellect. At the beginning, her mystery makes him so eager to know more. His interesting stories can capture her attention and break down her guards.
At the first glance, she looks like a quiet, private person. Once getting to know her better, you will realize that she is smart, funny and outgoing. Of all zodiac signs, probably only Gemini man can get her to open up; it all thanks to his communicating skills. His thoughts and carefree personality will help her break free from all the suffocating matters.
His ideal type in a romantic relationship is a funny, daring, and exciting lady who willingly challenges his unpredictability. Meanwhile, she is waiting for a partner who can love her unconditionally and dedicate all the time for her.
Gemini man and Scorpio woman are attracted to each other and get along well in the early stages of dating. The thing is: can they survive for a long term? Due to their differences, he has to deal with her jealousy, possessiveness, and moodiness. This guy values his freedom and dislikes someone clingy and trying to control him. Also, his flirtatious and social nature is too much for this girl to handle.
Summary
So, are Geminis and Scorpios compatible? What is in store for this match?
When these two are together, they need patience and understanding to make this relationship last. People may find it odd when seeing them as lovers because Gemini is outgoing and extroverted while Scorpio is secretive and quiet. However, just a bit effort from both and this couple can work well.
Time will tell!