Attracting Gemini woman's attention is not as difficult as you think.
She is a real social butterfly always yearning for new things and excitement. Whenever there's a chance for her discovering anything different, she will easily get drawn to.
The only problem is that she also gets restless and bored quickly.
If you want to win the Gemini woman's heart, the key is to keep her interest in you alive forever. To get her to fall in love, you must be good at creating as much excitement and pleasure as possible.
So, are you the kind of man she wants in her life?
Let's find out tips on how to attract a Gemini woman in the following!
5 Tips on Winning a Gemini Woman Heart
Astrologically, Gemini woman is a highly-educated and intelligent person. If you want to catch her attention, you must have a witty sense of humor and always come up with new things whenever she feels uninterested.
Constant changes can hold her attention and make her love you.
What does Gemini female find irresistible in a man?
This woman in a relationship loves romance. With her alluring charms, she is usually surrounded by lots of guys. That explains why she is picky when it comes to choosing the love partner, undoubtedly. Though she is a social person, it takes her quite a long time find the right man.
You must have these special traits to keep a Gemini woman interested:
1. Great sense of humor
Of all traits Gemini woman looks for in a man, the most important one is the sense of humor. This is a positive lady who loves to hear fun stories and laughs. If you want to attract her, then you must know how to make her laugh.
She gets attracted to a guy who has positive vibes around him, enables to make others laugh with ease.
2. Witty nature
As you know, the Gemini female is gifted with a quick mind; also, she is an intellectual person. Therefore, she gets attracted by a witty guy. The appearance is important, but you have to be intelligent and well-read.
In general, you can't be her Prince Charming with just the outside – your personality must be interesting too.
3. Be adventurous
Again, let me remind you that Gemini woman needs excitement every day in her life. In order to catch her attention, you should be adventurous in different facets, such as love, work, and other things. Put it simply, she needs fun in everything. Her mind is always restless; that's why she never prefers the ordinary life with daily routines.
When choosing a love partner, she wants him to give her constant changes and excitement.
If you want to make her spend time with you, try to behave spontaneously and act adventurously. Surprise her with exciting last minute plans and she won't be able to resist you.
4. Be successful
As a confident, independent woman, she expects the same from her future partner. In case you wish to captivate her heart, you must know exactly your purpose and be dedicated to both your work and personal life.
If you are her love, then Gemini woman wants you to be successful.
It doesn't mean you have to reach the top, but you must gain success in the particular area you selected. Make her proud and you will win her heart in return!
5. Be romantic
Mentioned earlier, the Gemini lady is very romantic. You may think a social butterfly like her is not into a romantic love life; however, romance is instead an essential aspect. Well, if you think that inviting her to a candlelit dinner or having a date on the beach will surprise her, then it's wrong.
You must be extraordinary to keep this girl romantically on her toes.
Don't know how to change yourself? Why don't you re-invent your appearance and style? I always say that you need to be new and unique to impress your Gemini love interest. You must make her feel like she is having a conversation with someone she's just met for the first time.
What Interests a Gemini Woman?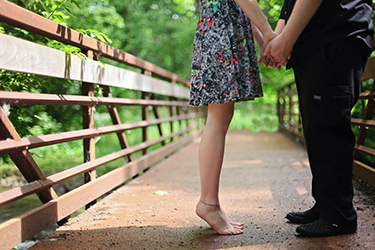 Gemini woman loves to talk, and most of her conversations are about people and experiences in life. Rather than deep emotional drama, she is more into practical subjects or anything giving her opportunities to learn new things.
Due to Gemini negative traits, she is not good at expressing inner feelings and emotions; in most situations, she handles problems with analysis and wit. Though a Gemini may have more affairs, she has a hard time to find a partner for a committed relationship. If she opens up many facets to you, then for sure your romance will flourish.
If you are looking for someone that has the variety in personality, then Gemini woman is your perfect match.
Let me give you another hint to attract her – she loves to flirt, so you must be a good flirt with witty sense to win her heart. Show your irresistible charms in conversations and intrigue her with words so that you can have a chance to stay with a Gemini.
In Conclusion
So, how to attract a Gemini woman?
One thing you have to keep in mind is that the lady of this sign loves excitement and exploring new things. Getting her is simple, but making her to stay forever is a real challenge. If you want her to stick with you for life, then the key is to work hard.
In love, she dedicates her whole heart to her partner; thus, consider yourself very lucky if Gemini woman is in a relationship with you. Though she is a wonderful lover, don't expect her to settle for anything ordinary and routine
With no interest in life, she will soon get bored and separate from you. As long as you can frequently provide her something new, then she will be yours forever. If you are the type unable to adopt changes, Gemini woman will surely break free and fly away at certain times.
Leave your comment below if you have any question about this topic!