A social butterfly can be dark at times.
The Gemini female (May 21 – June 20) is commonly known for her split personality – fun and outgoing on one hand but also aloof and detached on the other hand. Just one second and she can switch from a people person to a homebody.
Ruled by Mercury and love to talk about almost everything, not many think a Gemini is secretive; however, she indeed has a mysterious side.
There is some truth to Gemini female personality and we will reveal it in this article!
Here are some Gemini woman negative traits you should know!
What are Weaknesses of a Gemini Female?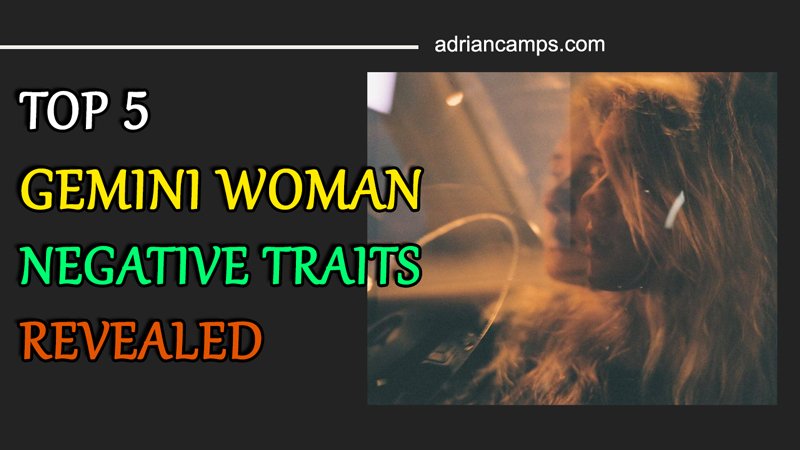 Born under an air sign, this lady has excellent communication skills and can adapt to any situation. She has a go-with-the-flow personality and a big yearning for new adventures, so you must always come up with excitement in order to win a Gemini woman's heart.
This gal has the ability of turning your frown into a smile in a blink of eyes, but let me remind you again that she has dual personalities. Her strengths sometimes can be outweighed by her negative traits.
Check out 5 bad qualities of Gemini woman that make others annoyed:
1. Inconsistent
Referring to Gemini woman, she is restless and always on the go. Yes, she finds it extremely hard to sit in one place and keep doing routine. An ordinary life is not what she is living for; instead, this lady looks for new adventures from time to time.
The Gemini female comes up with different hobbies at a time, and the problem here is that she hardly accomplishes anything. She is so excited in the beginning but soon will drop it when losing interest.
Many find her inconsistence in many areas of life and this is actually not good. Whether it's her career or her relationship, the key is stability. Being inconsistent will stop her achieving anything requiring patience and effort.
2. Indecisive
Don't ask your Gemini lady to make decisions because she really hates that. She is an indecisive person, so it's not surprising if she is not good at choosing this and that. In a relationship, she willingly allows her partner to take decisions for both.
To a Gemini, all the options sound great.
In her universe, she would love to live in somewhere that both the moon and the sun can collide. Unrealistic but that's what she wants because she is unable to pick. This quality is a big obstacle for her work as well as daily life.
3. Overly anxious
It's okay to be anxious; nevertheless, it becomes disastrous in case of Gemini woman because her anxiety is no joke. You think a lively, outgoing person like her will not worry about anything. Totally wrong! Indeed, this social butterfly gets anxious easily while preparing for important events.
When she is overly anxious, she will be likely to ruin the moment.
This is the answer to all of your questions about Gemini woman can't bring out the best performance. In short, not many Gemini can work well under pressure.
See traits making a Gemini special here (if interested).
4. Double faced
Obviously, the woman with Gemini zodiac sign is infamous for her dual personality.
You find this girl lively, fun, and easygoing – this is the first side of her personality or the side she puts on display. Meanwhile, the other side is her hidden side – more like her deepest emotions that she doesn't want anybody to know. According to astrologers, the hidden traits can unveil what she really is.
Gemini woman believes that people around her can't accept her true person once it's revealed.
Discover more when Gemini woman ignores you in a relationship!
5. Judgmental
Of all bad qualities of a Gemini, what makes others most annoyed is that she acts judgmental to almost everything.
If seeing you for the first time, she will generally judge you based on some basic information. Well, she has no time to verify the information to see if it's right or wrong. In any situation, she simply believes in anything others think about you. That's why the Gemini female usually misunderstands someone and also gets misunderstood in return.
Don't expect her to put any effort to make things clear.
Dark Side of a Gemini Female in Love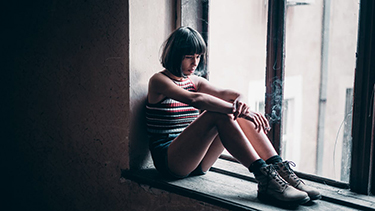 When it comes to love, there are some common negative traits in Gemini woman that her partner may want to know.
This lady hardly finds a committed relationship due to her inconsistency and fear of losing freedom. She may get involved in lots of affairs; nonetheless, a true love lasting a lifetime is too expensive to her. In addition, her lover will soon get frustrated towards her lack of depth in thoughts.
The Gemini female also has issues with expressing herself emotionally; this is the reason she has only a few people in her circle despite the fact she is a talkative, sociable person.
She is superficial by nature and the person whom she shows to the world is completely different from her true self.
As mentioned earlier, her ability to make decisions is not so good, especially when being asked to choose something significant. She usually feels anxious and nervous when dealing with any big occasion. If you want to ease her worry, then simply surprise her with unexpected surprises.
Of all these Gemini female negative traits in love, the hardest thing is to maintain her interest in you for a long time.
Discover the best love match of Gemini woman with a click!
The Bottom Line
Despite Gemini woman negative traits, her positive qualities still outshine. If you are planning to attract a Gemini romantically, then offering her spontaneous adventures constantly can avoid her dark side.
She is brighter than the sun on the outside; however, don't get yourself blind by that. Keep telling yourself that the surface isn't always golden.
Generally speaking, she may have some negative traits, but like anyone else, she is the most friendly and cheerful person to be with.
If you have any question related to the topic here, don't hesitate to leave the comment below.