In any relationship, finding out the compatibility is a great interest to many.
If you are a Gemini in love with or getting to know a Scorpio, it's a must to learn whether or not these two signs are compatible. Being in a relationship is not as hard as keeping it last forever. Fortunately, today's article will shed light on the love story of Gemini and Scorpio and help both find the path to happiness.
So, is a Gemini compatible with a Scorpio?
Time to discover!
Love of Gemini and Scorpio: How Will It Be Like?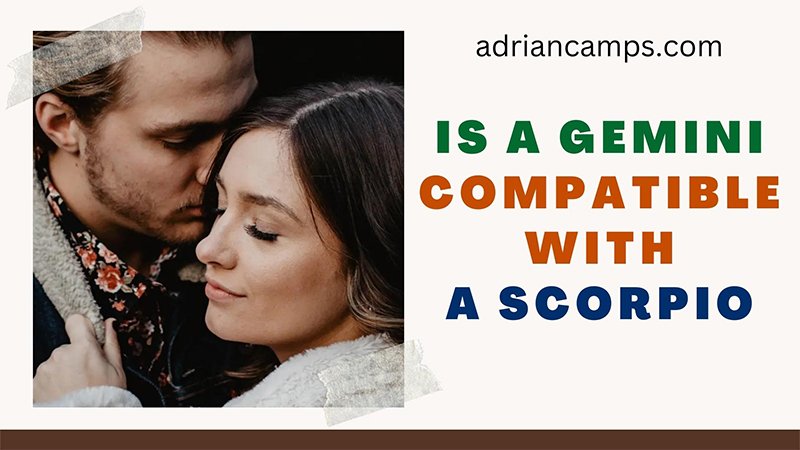 Will these two achieve a long-term relationship?
Gemini (May 21 – June 21) and Scorpio (October 24 – November 21) are the combination of air and water. This couple could create a storm or even a tsunami due to their different characteristics.
See also: Signs a Gemini man pretending not to like you
Love relationships between Gemini and Scorpio are quite rare because they have plenty of different personalities. It's not easy at all to find the common ground in this pairing. However, if they can overcome all the obstacles and difficulties, then this will be a promising match.
They will share a passionate love in which two people will never get bored of each other.
Scorpio in love is all about ​​affection and known for being possessive and jealous, while Gemini is like their enemy in the zodiac. The twins love freedom and independence; no matter how many times Scorpio talks about this, Gemini still never changes.
Instead of being annoyed, Scorpio being jealous in a mischievous way makes Gemini feel interested when watching their reactions. The two of them can make a weird yet cute couple.
1. Gemini
Geminis born between May 21 and June 1 usually bring you humor sense, charms, and good laughs. In the meantime, they are rational and find it difficult to express their true emotions in a relationship, so Scorpios have to be patient.
With Geminis born between June 2 and 12, they can bring out the nobility in you. It's better not to get involved in a long-term relationship with them unless it's for business issues. The combination of your personalities can help both develop well – Gemini's sophistication and Scorpio's determination. This is a great teamwork for getting things done!
People born between June 13 and 21 will spark a lot of new interests and help you realize the unique side of your personality. Like Aquarius, partially ruled by Uranus, they like to do unexpected things. If they're your company in the trip, your journey will definitely be interesting.
2. Scorpio
If Scorpio was born between October 24 and November 1, your relationship will be under the influence of Mercury and Pluto. These Scorpios are very straightforward, so your relationship with them will face many conflicts.
With Scorpio born between November 2 and 11, your relationship will be influenced by Mercury and Neptune. This is a quite agile and flexible Scorpio that is seemingly the most suitable option for you.
How about Scorpio born between November 12 and 21? Your relationship is under the control of Mercury and the Moon. It's hard for them to accept your feelings, but if you can conquer this Scorpio, they will bring you a passionate love that you've never found anywhere else.
Problems of Gemini – Scorpio Relationship
When Gemini and Scorpio fall in love, both will have to learn to understand and accept each other's differences. Gemini's characteristics are being changeable, adaptable, wise, and communicative. On the other hand, Scorpio tends to be secretive, intense, concentrated and stable.
This love is full of passion, but that doesn't mean these two have no arguments.
Gemini often wants to discover the root of every problem through conflicts, and Scorpio is also ready to join them. In the end, Gemini can't help but becoming the loser and must back off.
We all know that Scorpios are notoriously jealous and take their feelings seriously. They are faithful and expect their lover to do the same in return. Gemini is a free-spirited individual, but if they find someone they truly love, they'll be willing to be faithful to that person.
Read more: Tips to make Gemini man obsessed with Scorpio woman
Advice for Gemini and Scorpio
Gemini is an air sign and Scorpio is a water sign.
These two elements can make a great combination indeed. Both will come up with the best decisions when combining their minds, emotions, and hearts. The secret for a beautiful love is, of course, to respect and understand each other.
Scorpio has a holistic and profound perspective and stability that enable to help Gemini focus on a certain direction. Meanwhile, Gemini helps Scorpio learn to be more flexible and find a way out when their efforts meet a dead end. This perfect combination works not only in love but also in work.
Life will bind these two people together for a long time.
Scorpio is stubborn, so it's hard for them to absorb others' opinions. The nature of this water sign is their intensity in affection making them not easily forgiving for any. They are not afraid of taking revenge; that explains why Scorpio is dangerous to Gemini, the carefree and distant sign.
As a Gemini, always remind yourself of Scorpio's sacrifices in love and behave in a caring and comforting way to them.
The Bottom Line
So, is a Gemini compatible with a Scorpio?
As a couple, prepare yourself for some challenges and difficulties ahead. Gemini is a carefree, playful, and intelligent sign that may clash with Scorpio when it comes to communication. The way these two talking is very different – Scorpio likes to dig deep into a topic for discussions, while Gemini prefers being gossip and jumping through many different topics.
To be able to walk together till the end of the road in a relationship with love and potential, Gemini and Scorpio need to adjust lots of things. One of them is that they should learn to be more mature in order to cooperate with each other.
In conclusion, the rate for the compatibility of Gemini and Scorpio is lower than 50%.