Have you ever wondered how strong you are?
For example, while some seem to struggle terribly with a breakup, some can let go easily. In fact, not many people are born with the ability to be mentally strong. Having a rational and analytical mind helps one face problems calmly as well as handle them all logically.
If you're able to control your inner thoughts and emotions, you can achieve the ultimate success in life with ease. According to astrologers, this quality can be influenced by your zodiac sign.
Let's find out zodiac signs strongest to weakest mentally in this article.
8 Zodiac Signs Who are Mentally Strong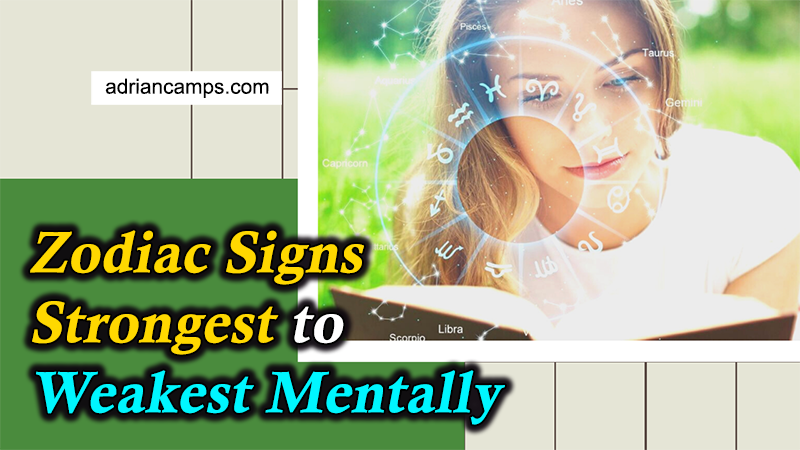 1. Taurus
When it comes to the most powerful sign generally, Taurus is (undoubtedly) in the first place. Your mental power makes you steady and firm in whatever you do. Many often complain about the bull's stubbornness, but that quality on the positive side helps you take grounded decisions and determine on reaching your goals.
You're also the master in maintaining your composure, Taurus. If anyone wants to bring down a bull mentally, they need a lot of effort.
Have a look at Gemini and Taurus compatibility here
2. Scorpio
Symbolized by a scorpion, this sign has a strong natural energy and represents power.
In terms of making decisions, a Scorpio is firm. Your strength of character and will is obvious in all circumstances. Born with an intuitive ability, you have no difficulty in reading the facade of others.
Many find that Scorpios' inner strength and powerful energy are awe-inspiring. Thanks to your strong mentality, you're likely to never give up challenges or tough situations. Instead, you always strive for the accomplishment of your desires.
Check out Scorpio and Gemini friendship!
3. Gemini
Infamous for the dual personality from the twins, Gemini views everything with various perspectives. Rather than taking any side emotionally, you look at different angles of a particular situation to come up with a rational conclusion.
Geminis are social and good at creating new connections with others. You'll surely get involved in many circumstances in life that require you to make big decisions. With all the experiences gained, your mental capacity will grow a lot.
See also: What is the most hated zodiac sign?
4. Cancer
Not many expect this, right?
We often think that Cancers' mentality is weak because this sign is sensitive and emotional. How can a dreamer be one of the strongest signs in terms of mental strength?
Your compassion and understanding add much power to your thinking ability. You love with all of your heart and strongly believe that human feelings can give strength to one person. Even if getting hurt, you won't be afraid to continue. It's your strong heart and analytical mind help you ignore the pain and get through hard situations in a healthy way.
5. Libra
You're too kind so you can't be the mentally strongest zodiac sign, but you're definitely not the weakest.
As a Libra, all you want are just balance and harmony. No matter what you do, these two elements can keep your mentality stable. Once you're mentally strong, then it's easy for you to carry on everything in life.
Known as the most power social balancer in the zodiac, Libras are able to find a common language with everyone in the room. When approaching any matter or situation, you are full of patience and justified.
Libra can handle the crisis better than others expect.
How about Gemini and Libra match? Click NOW!
6. Leo
This list won't be complete if there's no the king of the zodiac.
Born with strong will and powerful personality, you're the natural leader who won't miss any chance to attain success. No one can beat a Leo's perseverance because the mental capacity of this sign is on another level. With a huge love for attention, you can't help but enjoying the spotlight and trying to remain the best spot.
You're successful, determined, and purposeful. Others may claim you as arrogant, but that kind of insult never bothers a Leo.
When Gemini is paired with Leo, find out the results!
7. Aries
This is the most passionate sign embraced with abundant energy. Most Arians are doers and achievers, so of course you – an Aries born individual – are mentally strong as well.
Rather than thinking, you believe that actions speak louder than words. Determined and stubborn, you won't allow anyone to help you make decisions. Even if facing difficulties, you will choose to solve them yourself.
The ram is not the type giving up or giving in, and I think you can see this quality in you – fighting till the very end.
8. Capricorn
This is the sign radiating constructive energy in any circumstance.
You're a strong leader in all situations and extremely hardworking. It's rare to see you getting in arguments, but that doesn't mean you can't stand up for yourself. Having great willpower and patience, you know exactly what you want and how to achieve it.
Not the dreamer type, Capricorn is indeed practical and never relies on fortune. If facing problems, you will come with rational and logical solutions to solve them without asking for others' assistance.
Is Capricorn a perfect match for Gemini?
4 Zodiac Signs Who are Mentally Weak
1. Pisces
You have a big heart and can feel others' pain easily.
People know this so they end up taking your kindness for granted. Sadly you just let them do it because you trust everyone in a blink. As a kind-hearted person, you don't allow yourself to ignore anyone in trouble.
Have a look at Pisces and Gemini match!
2. Sagittarius
Not many realize this, but Sagittarius can be inconsistent emotionally at times.
If you get distracted or your mind is restless, emotional instability will happen and affect your behavior and attitude. But overall, you still can cope with stress and life issues better when compared to others.
3. Virgo
You're hardly a strong sign, Virgo.
With a restless nature, you put too much pressure and worry on your own self, and this affects greatly to your energy and mental state. In addition, you can't adapt to new situations or handle well with criticisms.
4. Aquarius
Many think that Aquarius is cold and distant, but this is one of the most precious sign of the zodiac.
You aren't considered as someone with strong mentality because you're a super kind and warm-hearted person. In general, you have strong inner abilities but lack the energy and will to take actions.
Summary
So, that's all for zodiac signs strongest to weakest mentally!
Are you the strong sign or weak sign? Is the info above correct with your sign? Don't mind telling us your experience regarding your mental strength.
Leave your comments in the following if having any question about this topic.