Are Geminis and Taurus compatible?
They are two consecutive signs in the zodiac. Many often say that this is not a good match because they have different perspectives. However, they actually share quite lot similarities by seasons.
Both Gemini and Taurus are spring signs, and you can feel that the chemistry will blossom when they get together. They can help each other discover things happening in life and become the inspiring forces mutually.
Read on to learn more about this pairing.
Can Gemini and Taurus Work Together?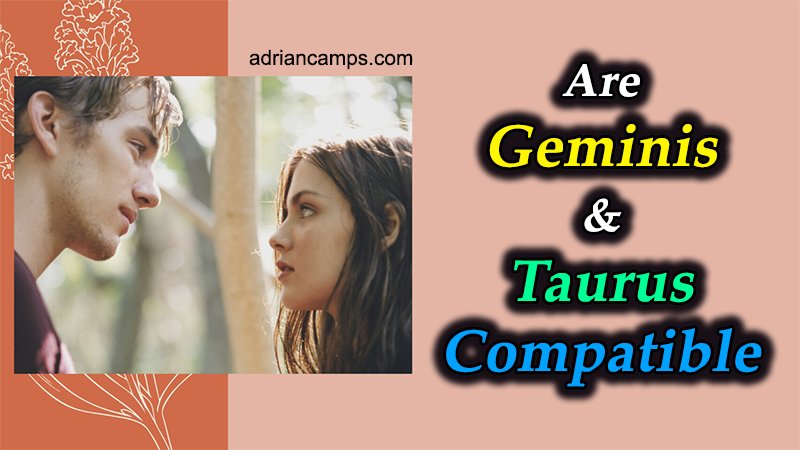 This combination will make a perfect team in a healthy Gemini-Taurus relationship. With strong mental focus, they can achieve all the goals they want once working together. In general, these two can rule the world as soulmates.
When Earth and Air are together…
Well, what I like about this couple is that the two of them know exactly and understand all the differences between themselves. Instead of quickly giving up, they positively think that those differences can draw them closer together. Personally I think this quality is often overlooked when it comes to the Gemini-Taurus pairing.
If just discussing about the compatibility of elements, then Water is a perfect match for Earth and Air is always the ultimate option in combining with Fire. Because of that, not many notice the power of Earth and Air when being together. The flow of Air can make Earth comfortable with their slow pace.
See also: Do Geminis and Sagittarius get along?
A glimpse at their Yin Yang balance
According to most astrologers, a relationship with both Yin and Yang can help 2 individuals involved cover more ground. If they share the same sign or element, or the two of them are Yin and Yang, then there would be lots of similarities making them get bored soon.
With too much overlap, it's difficult for them to accomplish certain tasks. As time passes, this will bring problems leading to some heavy consequences that can push the relationship to the edge.
Put it simply, if you are in love a person functioning the same way, like daily habits, lifestyle, hobbies, etc., you will either add another angel or another demon to your life.
That's why I keep saying a Yin-Yang relationship of Gemini and Taurus will definitely work well. No stress or misunderstanding built up, they in fact help relief each other's anxiety. Together they can cover aspects that one another lacks and mutually complement.
With acceptant and understanding, this is a fulfilling relationship.
The compatibility in bed
How is the sexual compatibility of these two signs?
Both of Gemini and Taurus will bring unique experiences to the bedroom. Gemini loves exploring something different and is a flirting expert; meanwhile, we all know about the sensuality of a Taurus (as an earth sign).
When making love, all the differences between these two signs will ignite the spark and bring their intimacy to a whole new level.
How to Make This Relationship Work Well?
Here are some tips to strengthen the relationship of Gemini and Taurus:
1. Balance time together and time apart
About this aspect, both are pretty different. While Taurus prefers to stick with the one they love all the time, Gemini does need their private time because freedom is important to them. Hence, these two must balance well between time spent away and time spent together to work out this relationship.
This needs understanding and respect from both parties. They must know when to cuddle and show affections to each other and when to give each other space. Though it sounds simple, most couples struggle with this. Taurus has to put much effort into this to strengthen this relationship bond.
2. Always come up with new things
The key to keep this relationship surviving a long term is to keep things fresh.
Gemini has a huge need for mental stimulation; otherwise, they will quickly get bored and lose interest. If Taurus wants Gemini to stay forever, the only way is to search for ways to liven things up. As long as the Bull can provide the variety, the Twins will show appreciation and choose to stick around them.
3. Not bring temper tantrums on the surface
Taurus takes love seriously; hence, Gemini shouldn't mess around or play mind games with them, or they can't help throw temper tantrums. Fortunately, Gemini is good at remaining calm in most situations. This is a benefit if they want to be in a romantic relationship with the Bull.
Despite of that, even the calmest Taurus can end up with a temper tantrum. As a brilliant talker, Gemini is able to change their conversation to the favorite topic of Taurus, easing their anger.
In addition, Gemini and their positive, calm demeanor can cool down heated arguments between them and soften their Taurus partner as well.
4. Communicate openly
Taurus is a very independent creature. However, it's not good in a relationship with Gemini. No matter how much you are independent, you must have frequent conversations with your significant other. A relationship without proper communication will end up with only misunderstandings.
If both Gemini and Taurus have doubts or questions related to one another, you two better speak out straightforwardly instead of leaving each other in the dark.
5. Be patient and work to compromise
For ultimate happiness, Gemini and Taurus must learn to be patient and strive for compromise in a relationship together.
About Taurus, you shouldn't get pissed or feel like giving up with Gemini's flexibility because that's their nature. Plus, a Gemini being flexible will add more colors and fun to your life. Thus, it's better if Taurus can be more patient in the relationship.
Keep in mind that neither of Gemini nor Taurus can manipulate the other. They should strive for compromise and balance to keep their love connection going strong.
In Conclusion
So, are Geminis and Taurus compatible?
This match can work well if following the guide above. Moreover, they should just focus on the good points of the other instead of trying to find each other's weaknesses. As Taurus is a sensual sign, they expect more physical affections from the partner. Thus, Gemini should be more comfortable and affectionate around Taurus.
When they truly take this relationship on a higher level, they will make plans and even discuss the future ahead together.