Do Geminis and Sagittarius get along?
The answer is yes!
There is a strong connection, mentally and spiritually, between these two signs that no other match can duplicate. They are independent individuals who always look for new adventures or challenges to engage in.
On the go all the time, they have no problem in keeping up with each other. Plus, freedom is what they value the most, so they always respect the other's private space without any complaint.
The best example for opposite attraction is the Gemini and Sagittarius duo.
These two get along well. With great senses of humor matching up well, they will have fun time together. No need to worry about them feeling bored with each other because there won't be a dull moment between them.
How Compatible are Gemini and Sagittarius?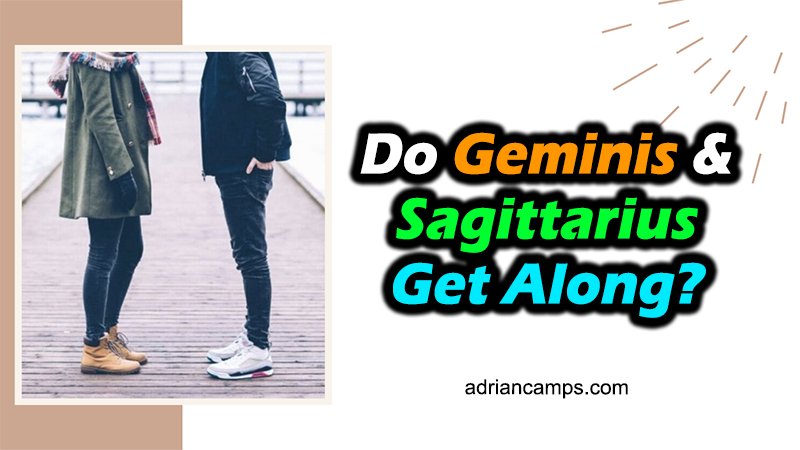 First, you must know that Gemini is a notoriously fickle sign. Things making them excited today may become boring on the next day. If you want to be with them for a long time, then you should be able to provide them constant mental stimulation.
Known as a mutable air sign in the zodiac, Gemini is quite intelligent. People born under this sign are social, well-spoken, and very outgoing. To them, there's no stranger – they have no difficulty in getting to know everyone in the first meeting. They won't feel interested to those who can't hold a conversation or don't like to learn new things.
It's hard for Gemini to stick at the same place after many hours; in this case, only Sagittarius can deal with them.
Can they have any potential to be a long-term match?
Keep track of the following information:
1. They are social creatures
Of all zodiac signs, Gemini and Sagittarius are the most social ones with large circles of friends. If Gemini has an eclectic range of friends that they befriend with from different occasions, Sagittarius has a group of close friends and often gets in touch with them.
Both of them are interested in making friends with new people and exploring different aspects in life. They are curious in common and have restless minds. That's why it's hard for Gemini and Sagittarius to stay in one place or be in a relationship with one person for so long.
They are constantly on the go, intelligent, and good at adapting to new circumstances.
What's more?
They are natural communicators. If Gemini is very a witty and smooth talker, Sagittarius has a heartfelt way of speaking. Together their conversations bring up a sense of warmth and humorousness.
Click to see if Geminis and Taurus are compatible!
2. They have different perspectives
When two individuals in a match get along well, it doesn't mean they have only similarities. In fact, these two signs here have different perspectives. For example, Gemini wants to live their life in the moment and to the fullest because it's all about experience to them. Meanwhile, Sagittarius goal is to live for the future.
Once getting involved in a relationship, the two of them don't feel cautious at all (even at the first stage of dating).
If you want to attract a Gemini, then think about their love for variety. They are the social butterfly in real life who can get bored quickly if having no mental stimulation. You must shower them a variety of cool activities or they will soon lose interest.
In case of Sagittarius, they do need the same variety as Gemini. When it comes to look for a partner, they expect to be with someone who can join them in any thrilling adventure and also inspire them in all works.
3. They make complimentary coworkers
Since their general personality traits are quite common, Gemini and Sagittarius are drawn to similar careers. Mostly it will be occupations requiring the worker to be social, friendly, and open. Each person is fluent in talking, carefree, and able to charm others using their strengths.
Both are gifted with the persuasion skills.
According to many, Gemini is a fast talker but it's not like others will find what they say hard to understand. They have the ability to captivate the attention of everyone using their charm and wit during conversations. These people have effervescent personality that makes them highly disarming.
How about Sagittarius? They are full of warmth, friendliness, and charms. I believe you all will get attracted to them right at the moment you see them. They have an air of reliability giving you the feeling of wanting to trust them.
When Gemini and Sagittarius work together as a team, they won't miss a chance to learn from one another aside from proving their strengths. They can be complimentary colleagues, or it could be friendly competitors in a parallel world.
4. They are friends having a lot of fun
Why Gemini is attracted to Sagittarius?
I mean who can't fall for someone who is cheerful, carefree, and dynamic. Gemini always wants to be with a fun, open-minded partner who thinks positively all the time.
On the other hand, Sagittarius has a soft spot for Gemini's intellect and witty sense.
Each party is curious about lots of things and eager to discover them. If the two of them are friends, it would be a friendship with a lot of fun and carefree times whenever they hang out together. Plus, they can learn a lot from one another and support their best of friend in whatever they do.
5. They are passionate lovers
Before becoming lovers, they will go through the friendship stage. As lovers, they don't show much emotion; instead, they will show their passion and interest when both spend time together. Because both are independent, their carefree social life doesn't have any remarkable change.
Related: The compatibility of Gemini and Sagittarius in bed
However, there will be some conflicts arising.
Neither Gemini nor Sagittarius wants to commit to one person for a long time. They are never into settling down or creating a family. What they hate the most are routine and boredom! A long-term committed relationship is tricky to both, which means it's hard for a Gemini to stay with a Sagittarius forever.
The Bottom Line
So, do Geminis and Sagittarius get along well?
The combination of an airy sign and a fiery sign is relatively good. It's completely opposite attraction when they get together. You can easily see their compatibility in the information above.
Their chemistry works amazingly and these two also share a plenty of things in common. Nevertheless, it's tricky for both when it comes to a lasting romance.