Opposite attraction does happen between two zodiac signs.
Not all zodiac opposites make the best matches as you might think. The thing is: the combination of Gemini and Sagittarius has a lot of potential. One is the airy sign and one is the fiery sign, and together they will give you the most intense chemistry ever.
So, are Gemini and Sagittarius compatible?
The answer is yes!
The two of them are fun-loving, sociable, independent, and likely to go with the flow in most situations. Their relationship is always fun and dynamic. Keep reading the below to understand this match better!
Gemini and Sagittarius are Social Creatures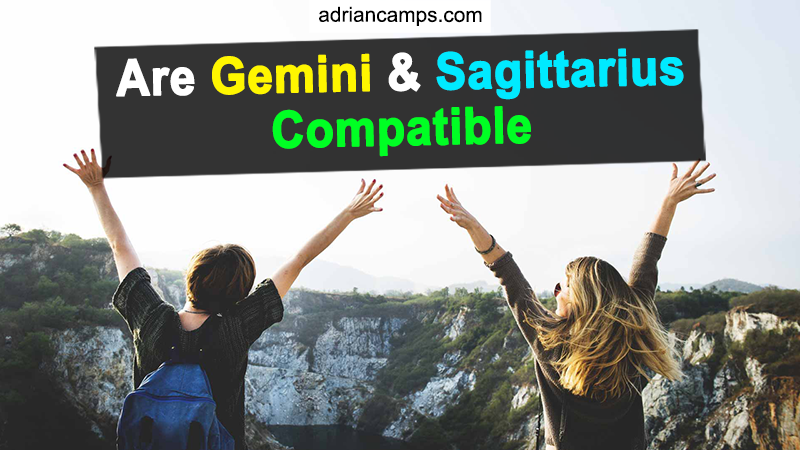 When Gemini meets Sagittarius, there will be lots of thrilling, exciting adventures between them. Usually opposite signs attract quickly but need quite a lot of time to adapt to each other's differences so that both can move forward.
Fortunately, it's not the case of these two.
They are mutable signs, so this means both are the flexible and adaptable type who welcomes all the changes in their lives. Rather than ordinary dates, their relationship will be full of unplanned trips in which the two of them can stay up all night chatting and explore new places together. This whirlwind romance brings anything but dull moments for a very long time.
Gemini and Sagittarius are friends and lovers in a romantic relationship.
Even air and fire are compatible, if we discuss about their signs' elements. When paired up, they're highly intrigued by one another's own charms. Though still many things lacking, they still have great time around each other.
See also: Do Gemini and Aquarius get along?
Gemini and Sagittarius Compatibility
1. As friends
Sagittarius friend is cheerful; it's their carefree attitude and dynamism attract Gemini. On the other hand, Gemini is an intellectual friend who can impress everyone with their witty talks, and Sagittarius is not an exception.
Both are open-minded, curious about everything, and eager to explore all of that. These two social butterflies will find a lot of excitement together, not to mention they can learn a bunch of interesting things from one another.
2. As lovers
The surprise here is that Gemini and Sagittarius won't fall in love quickly with each other; instead, they become friends first.
Both are intellectual signs, so they aren't really good at expressing their feelings. Therefore, their attraction to each other in a romantic relationship has less to do with emotions. In fact, it's more about their passion and interest for life. They want to enjoy their fun time together when falling in love.
Even if Gemini and Sagittarius are lovers, they can continue their carefree social life because both respect each other's private space a lot. Both being spontaneous and explosive will bring more spice to their relationship.
3. Emotional compatibility
Gemini and Sagittarius work well together in many aspects because they are two independent spirits who crave for space and freedom. When they see each other from the first meeting, they can easily realize that need. Honestly, neither of them has problems with giving their significant other alone time if needed.
They are never the insecure or intimidated type when knowing their partner want some freedom. Thanks to this mutual understanding, the security and trust between both will be formed and strengthened.
As opposite signs, they connect with each other in a more different way than others.
These two have the capacity of bringing out the best and worst of one another as long as they are together. The connection of the twins and archer is deeply intimate and fun loving. Without explaining anything further, they still have a level of understanding in between.
No other couples can pin these two down.
4. In the bedroom
This is a highly compatible match in the bedroom.
These two signs share a lit sexual energy in bed. They are thrill-seekers with full of passion and a great sense of adventure. If one wants to try something out of the ordinary, the other will never judge and willingly agree. Extremely open-minded, they enjoy different experiments at least once.
Gemini and Sagittarius have a sense of humor. Both can find themselves laughing together with any awkwardness happening in the bedroom. They grow closer through sexuality as it's the area allowing them to put down their guards. The more they share intimate time and excitement, the more they feel secure and trusted toward each other.
Problems of Gemini and Sagittarius
If Gemini doesn't stick to one person for a long time, Sagittarius also has a wandering eye. None of them really thinks about a committed relationship. They don't want to settle down and raise a family too early; also, they hate the presence of boredom and routine in their lives.
To both, a long-term relationship will fall into repetitive routines. Even if they have carefree time together and incredible love making, it will soon become boring, based on their perspectives.
It's actually trickier to keep the relationship lasting forever.
Another problem between Gemini and Sagittarius is the verbal conflict.
They see each other as friends, coworkers, and love partners. So, they surely engage in many face-to-face conversations. The matter here is that both are known for their unpredictable mouths and flaring tempers.
Of course neither of us can avoid verbal conflict occurring all the time. However, in this case, both should learn how to handle and control their tempers. Otherwise, it will surely blow them apart when they are unable to stop bickering.
Summery
So, are Gemini and Sagittarius compatible?
They seem to be opposite signs, but they are highly compatible. Not only sharing many things in common, they also can balance each other out. The relationship will bloom and grow deeper as time passes as long as they understand and adapt to one another's differences.
Both must try to communicate their needs openly so that no more misunderstandings arise between them.
A little bit of effort and their relationship will be strong and keep moving forward.