How is it like when you are in love with a Gemini man?
You will never have a dull and tedious in a relationship with Gemini. This guy will ride on a roller coaster together with you every day; plus, he enjoys taking you on various thrilling journeys. Being with him means you'll get experienced countless amazing and incredible things that you could never find in others.
If you don't mind his indecisive and dynamic nature, Gemini man is a perfect lover.
So what is the best match for Gemini man?
In today's article, let's find out which zodiac signs can be compatible with the confident, determined, and daring Gemini male.
Top 4 Gemini Male Love Matches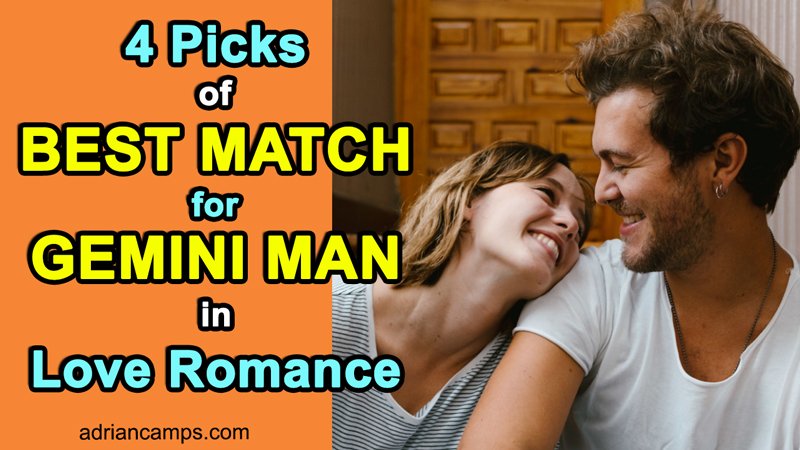 According to astrologers of love relationships, Gemini man seems to be a great match for Aries, Leo, Libra, and Aquarius.
Bonus, Gemini with Cancer seems to be a potential match as well.
Have a look in the following:
1. Gemini man and Aries woman
Gemini and Aries create a good loving combination. Sharing common characteristics, both enjoy doing this and that, hanging out with friends, taking adventurous trips, and discussing anything. Together they can help distract each other from daily worries.
It's the playful nature of Gemini leaving a big impression to the active Aries. Due to their huge interest in exploring the outside world also, soon she will get attracted to him. Both are independent and carefree; thus, they respect the private space of each other while still making enough time to spend together.
See also what Gemini looks like here!
If the Aries female keeps coming up with ideas, the Gemini male and his objective perspective will help her formulate them orderly.
Extremely honest and spontaneous, this woman fits well with the fairness of Gemini. However, sometimes she finds him a bit confrontational or fluttery. Despite the high compatibility of this pair, the chance for both to commit and settle down a serious relationship is tricky – his faithfulness is doubted and her flirtatious behavior can stress him out.
Is there any conflict or quarrel between these two?
Definitely yes! Aries lady doesn't like the fact that her Gemini keeps seeking the fun outdoors.
Related to: The compatibility of Gemini and Taurus
2. Gemini man and Leo woman
Another good match for Gemini man is Leo woman.
When both are together, they will form a playful, fascinating relationship. The guy is born with versatility, flexibility, boldness, and light-hearted behavior – those are qualities attracting the Leo female to him. On the other hand, he feels captivated by her irresistible charm, self-confident attitude, and romantic gestures.
These two love engaging in fun, exciting things and adventures; in addition, they usually spend time hanging out and meeting more people. When it comes to flirting, no one can beat Gemini and Leo.
It's his quick thinking ability, practical and composed approach making her fall head over heels, but sometimes she still craves for his emotions more. He is not the type easily opening up his inner feelings, while his Leo doesn't hesitate to express her passion and things running within her head.
The Gemini male is adaptable whereas the Leo female takes time for changes. He is changeable and doesn't care much about what happens around his environment. In the meantime, she loves the attention and wants to be the one setting the pace; well, it's not like her partner will allow it.
If Gemini man and Leo woman are in a committed relationship, they can make it last for a long term. Having many things in common, they know how to satisfy and won't feel bored with each other.
Also check out the compatibility of Gemini and Pisces here!
3. Gemini man and Libra woman
Both are air signs, yet they have different nature and approach in each. Considered as an equivalent combination, they can stay good together. While Gemini man feels attracted to Libra woman's charms, Libra gets impressed by Gemini's intellect, sense of humor, and enthusiasm.
Of all zodiac signs, Gemini and Libra are the most rational and observe the situation from different angles, so barely any conflict or argument happens between them. There is always a sense of balance whenever these two are together.
Libra woman in a relationship seeks attention and affection.
These two are also masters in flirting. Sometimes Gemini guy gets frustrated with Libra because she tends to hesitate for decisions for a long period. As I said earlier, the male is spontaneous in anything and knows his intentions exactly. Libra gal wants to be in charge in a relationship and easily succeeds because she has a charming way to convince her Gemini partner.
Again, this combination does not like arguing; instead, they prefer positive energy, peace and harmony in their relationship. Complementing each other, they will surely have a relaxed, smooth love life.
Read more: The compatibility of Gemini and Capricorn
4. Gemini man and Aquarius woman
The last match in this list is Aquarius woman.
Both are air signs and have many similar interests. Together, they can talk about everything and open up their exotic ideas. Gemini man can recognize Aqua lady in the crowd. These two can't handle emotional people or express feelings well, so they can get along better than other pairs.
Gemini and Aquarius are good communicators and not afraid to raise their voice about any matter. The female has a huge interest in new, unusual things, and that keeps the male excited all the time. Meanwhile, she appreciates the witty humor, quick thinking mind, and curiosity of the man.
They are light-hearted individuals.
In a romantic relationship, they share and balance well their need for change, thrilling adventures, and excitement. These two are spontaneous and the connection between them is more like a close friendship than an intimate one.
In Conclusion
That's all for the best match for Gemini man!
So, are you also a perfect match for this guy? We would love to hear all of your stories if you are or have been in a relationship with a male Gemini. In case you are looking for tips to attract him, we also provide the article in this site.
Please leave your comment below if having any question about this topic!