Can Virgo and Gemini be best friends?
The answer is yes, but they need to work hard. These two zodiac signs are adaptable and good at communicating; however, they have little in common. For a great friendship pairing, they must get to know and understand personalities of each other better.
As long as they comprehend one another more and more, a strong connection will be created between these two signs. While Virgo is intellectual, flexible and quite reversed, Gemini is more sociable, easygoing and adventurous.
Once they have enough trust towards each other, both will make a fantastic team in any aspect.
Learn more about Virgo and Gemini friendship in the following…
Virgo and Gemini Friendship Compatibility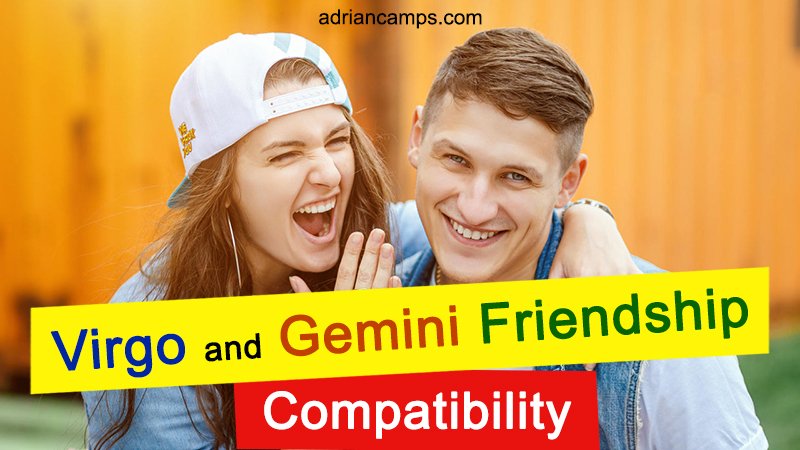 As mutable signs, both Virgo and Gemini have no problems with adaptability. They love changes and always search for new things in this life.
Ruled by Mercury, the planet of wisdom and communication, no wonder they are good communicators. They enjoy learning, observing, talking, and listening. Never putting their heart on sleeves, they are the rational type making decisions based on their mind.
Virgo and Gemini do have a few similarities, but their mutual differences also exist at the same time. This makes their friendship is tricky; fortunately, it still can work well as long as there's a compromise between them.
Virgo is a judgmental sign so Gemini (to them) is superficial, irresponsible, two-faced, and full of hot air in the first time meeting.
On the other hand, Gemini is always on the go and often gets confused by Virgo's constant need for stability and security. Plus, Virgo's anxiety and clinginess can make a Gemini see them as a stick in the mud.
Rational and practical, both Virgo and Gemini make decisions by analyzing things logically instead of listening to what their heart wants blindly. Rather than their gut feelings, they rely more on their common senses. Guess what? These two get along better in the workplace than in love, because they have a great teamwork.
Good at listening and observing, they strive for the best results and can't stop themselves learning everything. As a team, they can accomplish many tasks in a short amount of time. If any issue occurs, they will also come up quick effective solutions immediately.
They get along on the surface level.
The thing is: a deep friendship between Virgo and Gemini is rare.  
Most Virgos are picky when it comes to people around them. They won't allow anyone to enter their inner circle without observation. They are also highly judgmental. People born under the Virgo sign won't open up to those two-faced and fickle. Meanwhile, Geminis think of Virgos as serious people and their appearance just ruin all of their fun. The combination of these two will clash if having no compromise.
See also: Gemini and Sagittarius sexually with a click!
Virgo and Gemini: Brief Look at Personality Traits
Now you already understand their friendship compatibility, let's get a glimpse at their personalities below.
1. The Gemini
Due to the duality nature, Geminis are indecisive and inconsistent. As the sign eager for new things, they can quickly lose interest in a romantic relationship. Valuing freedom and independence, they don't like the feeling of being tied down; that's why most of them have the commitment phobia.
They can adapt well to changes and enjoys going with the flow in the reality.
Geminis are true social butterflies that are good at communicating, but it doesn't mean they don't want to have some alone time once in a while. Full of knowledgeable, they focus more on intellect and facts instead of philosophical ideas not proven. They prefer to talk, be creative, and listen to others' stories. You won't find a Gemini immerse on a single thought for a long time.
The remarkable downside of Geminis is their indecisiveness. They are confused and not sure about what they really want when they have to make decisions for their lives (professional and personal). Hence, they end up changing their mind frequently about friendships, relationships, and career paths.
This makes others see them as fickle people.
What's more? Because of their changeable attitude, they are likely to not involve in long term relationships. They feel bored after a short time and lose interest once his freedom gets threatened. They are afraid of committing to someone; therefore, it's better to enter flings or affairs remaining for a short term only.
2. The Virgo
How about Virgos?
Virgo-born individuals are good communicators, also. In work, they are dependable, organized, patient, and hard-working. Some may find them annoying because of their bossy, judgmental attitudes. However, they are just perfectionists focusing on details and expecting everything to be perfect.
Normally they will sit back and observe things happening around them when entering a room. But sometimes they can be talkative and easygoing; this depends on their moods or if they have to.
Born with a restless mind, Virgos can help but overthinking and worrying about lots of things. Especially when it comes to their relationships, they can be overly critical because this sign takes love seriously.
Since Virgos are practical and have a realistic view towards the world, they understand the fact that not all people around them can stand by them permanently well. It's rarely to see a Virgo acting clingy or needy with their family, friends, or partner, especially those hurt them in the past.
If you treat them with no manner or respect, they will say goodbye and walk away right away.
In Conclusion
So, will the Virgo and Gemini friendship work well?
The most important feature of a combination between a Virgo and a Gemini is the fact that they make a fantastic team when working together. Gemini gets adored as well as gains admiration from others by their communication skills, easygoing nature, and quick ability to solve problems. In the meantime, Virgo is much quieter and patiently works in the background, controlling and balancing everything.
Their widely different nature makes the friend balance each other nicely, but of course both must come with compromises beforehand.